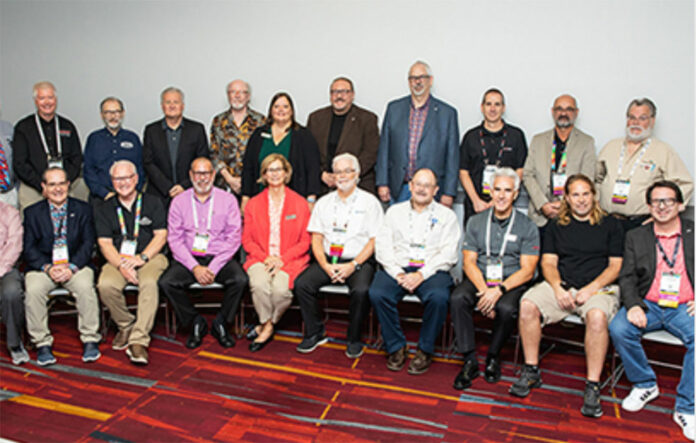 PRINTING United Alliance, the most comprehensive member-based printing and graphic arts association in North America, celebrates fifty years of its Academy of Screen and Digital Print Technologies (ASDPT), also known as "The Academy." The Academy will celebrate this special milestone during the PRINTING United Expo in Atlanta as it additionally welcomes its newest members. Also being celebrated are recipients of the Joe Clarke Innovator Award and David Swormstedt, Jr. Award.
A Milestone Celebration
In 1973, Alliance Board of Directors (SGIA, at the time), adopted a resolution creating The Academy, an honor society whose purpose was to promote and encourage the development of new technical papers relating to screen printing and making those papers available to the global industry.
Since then, The Academy has expanded its membership to incorporate digital print technologies. Academy members author articles, speak at events, and train throughout the industry.
Induction of Newest Members and Awards Ceremony at PRINTING United Expo
At PRINTING United Expo, The Academy will induct three new members: Travis Barcelona, Nazdar; Edward Cook, Jr., Founder/CEO of ECI Screen Print, Inc. (now ECI Technologies), retired; and Julie Ferrigno, e2ip Technologies.
Joe Clarke Innovator Award
Also being honored during the Expo is Mike Vasilantone, Vastex International (retired), who is this year's recipient of the Joe Clarke Innovator Award.
The award recognizes those who honor the spirit of Clarke's desire to improve the industry with the selfless example that he demonstrated. Recipients of this award are professionals who encompass the same selfless attitude in their contributions who have helped improve the industry in a variety of ways.
Swormstedt Award
The David Swormstedt, Jr. Award, commonly referred to as the "Swormstedt Award," recognizes those who encompass particularly strong, effective technical writing capabilities.
The Swormstedt Award process begins with articles submitted in seven categories, with one selected as the best from each category.
This year, The Academy proudly recognizes award recipient Bruce Ridge, Nazdar.
"Hearty congratulations to The Academy for celebrating fifty years of exemplary service," says Ford Bowers, CEO, PRINTING United Alliance. "Extended congratulations also to those recipients of the longstanding Joe Clarke Innovator Award and Swormstedt Award.
"Esteemed professionals such as those being recognized help carry on tradition and the advancement of the industry."
—Press Release