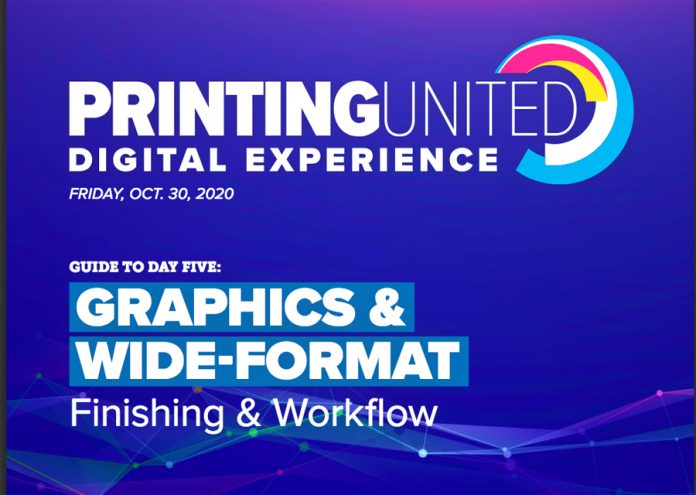 The PRINTING United Digital Experience, the global online industry experience held live October 26 through November 12, reports strong attendance and engagement across market segments. Programming is now available on-demand completely free to those who register through January 31, 2021 at digital.printingunited.com.
Upon conclusion of the live event, 108 countries around the world have engaged with the PRINTING United Digital Experience platform, including more than 8,200 registrants from 5,700 companies with over 100,000 pageviews and watched more than 7,500 hours of video. Engagement continues to increase as the content remains available at https://digital.printingunited.com/.
"We are incredibly thankful to those who participated both as exhibitors and attendees to this powerful platform we've had to transition to in this most extraordinary year," said Mark J. Subers, president of PRINTING United. "Even as of this release, industry professionals continue to engage with the PRINTING United Digital Experience platform. There are so many educational sessions, so many new products, and so much research to consume.
"We encourage those searching for the latest statistics and trends, and for those considering new technology implementation, to bookmark this site and take advantage of the invaluable content. We have the platform open until the end of January for this very reason. This is just the beginning, as we reset for 2021. Stay tuned for even more resources and programming to come!"
Market segments across the industry were represented, including: graphics and wide-format; apparel; commercial; packaging; in-plant; mailing and fulfillment; workflow and software; industrial; and digital textile.
Those who participated in the PRINTING United Digital Experience have said about the event:
"Nazdar SourceOne is excited to be part of the 2020 PRINTING United Digital Experience. The information that we are presenting for this event is more relevant today than ever in my thirty plus years in the industry," said Rob Coleman, Vice President-Textile Business Unit, Nazdar SourceOne.
"Though we cannot be together in person this year, we are eager to show the world what we've worked so hard to bring to the marketplace these last few months at the PRINTING United Digital Experience," said Deborah Hutcheson, Director of Marketing, Agfa North America.
"The PRINTING United Digital Experience is filling a need in the marketplace for companies like ours to showcase the very latest in technology advancements to help our customers' profits and growth," said Tom Wittenberg, HP Large Format Industry Relations and Events, North America.
"PRINTING United is an important event for us—one where we can showcase new, innovative products for the entirety of the market. With the show going virtual this year, we are excited to be able to participate and leverage this critical industry event to introduce our newest products, while being safe and mindful of the world we currently live in," said Matt McCausland, product manager, Professional Imaging, Epson America Inc.
"The PRINTING United Digital Experience fourteen-day structure that focuses on different market segments is a great way for attendees to absorb content in their specific areas of interest without being overwhelmed and we hope they understand the solutions Fujifilm can provide them in each," said Gregory Pas, Marketing Director, North America, FUJIFILM.
"We are excited about being part of this important virtual event. The PRINTING United Digital Experience will bring the show to print professionals, offering attendees a safe and convenient way to learn about new and innovative technologies and see them in action," said Andrew Oransky, Roland DGA President and CEO.
Education
More than one-hundred educational sessions remain available to attendees on the foremost topics facing the industry today. These include market trends, opportunities, and insight on companies facing new challenges amidst the COVID-19 pandemic, and general insight on areas for business growth in the months and years to come. You can access education on-demand at https://digital.printingunited.com/education-sessions/.
Research
PRINTING United Alliance and NAPCO Research analysts began each day of the live event addressing key trends, statistics, analytics, and future forecasts for the day's market segment focus. Attendees learned from the PRINTING United Alliance Benchmark and NAPCO Research reports on how to navigate the current business economy and what types of technologies companies are having success with both now, and what to keep an eye out for in the future. Those wishing to access that content can do so free until the end of January at https://digital.printingunited.com/.
New Product Debuts
With so many event cancellations earlier this year, many OEMs were awaiting a premier stage to showcase their new product unveilings. The PRINTING United Digital Experience delivered, being the first platform for many attendees to have the opportunity to see the latest advancements. These exhibitors showcased products brand new to the worldwide stage or the latest iterations of market-leading solutions. These were presented to attendees both in live video demonstration format and are also available on the global Product Showcase stage.
Those who attended or those who wish to learn more about these award-winning technologies can see it on the PRINTING United Digital Experience Showcase located here.
PRINTING United 2021
PRINTING United 2021 is scheduled to be held October 6-8, 2021 at the Orange County Convention Center in Orlando, Florida. Inquiries and sponsorship for the event is available through Jack Noonan, VP of Business Development, PRINTING United Alliance at [email protected].