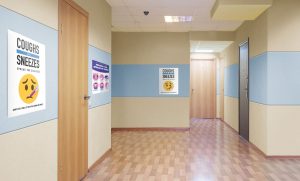 The needs of retail shops have changed. In place of graphics advertising sales and new products, stores are looking for signs touting the importance of hand washing and social distancing.
"This is a huge opportunity. As economies open up, governments and businesses are putting in guidelines that encourage social distancing and actually require businesses to put in signage," says Brian Meshkati, vice president of Marketing for SinaLite, a wholesale trade printer. "Consumers may be apprehensive to visit retailers in person freely once retailers open up shops. Signage communicating key information regarding health and hygiene regulations for that retailer, safety precautions the retailer may be taking to ensure social distancing compliance, hygiene mandates for staff, and methods of handling products—these messages will be needed to alleviate any customer concerns and make the transition back to visiting retailers in person much smoother."
Even in markets and states without specific regulations, Meshkati says that businesses will want to put up signage that shows they are responsible and safe areas for incoming customers.
For example, in an article from The New York Times, the newspaper writes about Simon Property Group's plans to reopen its malls—including the necessity of new signage and messaging. Signs could include messages welcoming customers back, posters detailing safety precautions that have been taken, and directional floor graphics. "Temporarily closed" signage may also be needed for certain retail stores and locations within the mall.
SinaLite recently rolled out a collection of COVID-19 products for sale to the sign trade. The products include floor graphics in five designs promoting social distancing and decals promoting health and hygiene in eleven different designs. Both products are also available in custom designs.
Meshkati says sign shops should recommend applying decals and floor graphics at important checkpoints during a customer's journey through a retail store, such as the entrance, exit, cash register, or any place with high traffic. Floor graphics specifically are great tools to use to enforce social distancing guidelines.
"Apply decals at eye level to ensure they are visible to customers, Meshkati recommends. "Apply them where they will not blend into the background."
As for content, Maria Garcia, customer service representative at Flexmark USA, adds that decals need to include more than just information. "It is important to make sure to add eye-catching colors and different elements that will allow for these decals to be more appealing to your clients and their overall vision," she says.
Flexmark USA offers COVID-19-related decals, shields, and preventative retail signage designed to help keep employees and customer safe. These products include pole signage for easy hand sanitation locations in store; custom vinyl adhesives, static cling, and graphics for businesses; protective Plexiglass barriers; and instructional floor decals promoting social distancing.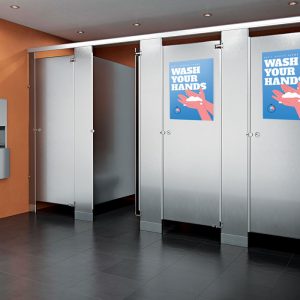 When it comes to customized design ideas for vinyl to display on protective Plexiglas barriers, Garcia says, "We believe optically clear digitally printed graphics are ideal in allowing to show important information that may promote the safety of the workplace without compromising visibility."
Plexiglass applications include both dry and wet mounting. "Wet mounting involves the use of a liquid (for the most part water) to position the graphic as needed," says Garcia. "Once the position needed has been achieved with the use of a squeegee, the excess of liquid is removed so there is minimal to no water within the graphic. Leaving water is okay, as the graphic sits for twenty-four to forty-eight hours to dry."
When installing graphics, be sure to first clean the surface. "Cleaning surfaces is very crucial to the longevity of the graphics and their presentation," says Meshkati.
Meshkati also cautions that shops make sure the floor graphic is applicable to the surface. For example, not all vinyl graphics are well suited to application on carpets.
Whether a shop is installing a floor graphic on smooth or carpeted surfaces, Meshkati says the main difference is in the cleaning process. For smooth surfaces, clean the surface and remove any grease or oil. For carpeting, clean the surface by vacuuming it well. No matter the surface, the next steps are to apply the graphic with a squeegee to prevent air bubbles and to let the graphic sit for twenty-four hours before exposing it to any foot traffic.
As for social distancing graphics, Garcia says the key for these types of graphics in reaching the attention of others rests in their design. "The layout needs to be simple. Avoid excessive wording. Feature enough key words that can relay the desired message which, in this case, equates to wanting people to be conscious of their space and surroundings," she says, noting her company's social distancing graphics allow customers to have visuals that can be easily accessible to ensure they know how to protect themselves and others.
Garcia adds, "The purpose of our social distancing graphics is to provide helpful visuals with information that benefit not only the customers but also businesses, hospitals, schools, and many other institutions that allow higher capacities of people in maintaining a safe environment and following the precautions needed during the current global situation."
Meshkati says sign shops should also think outside of the box. "Go beyond signage and printables," he says, recommending that shops also look to sell face shields and dividers/sneeze guards to retail clients. Many sign shops already have the equipment to make these products in-house, or they can outsource the production through a company like SinaLite.
Shops should also consider apparel. SinaLite offers shirts in seven designs touting social distancing, contactless payments, and the necessity for PPE like masks. These products are a great upsell to retail clients to remind customers, and staff, of best practices during this pandemic.
By Ashley Bray
Photos: Sinalite