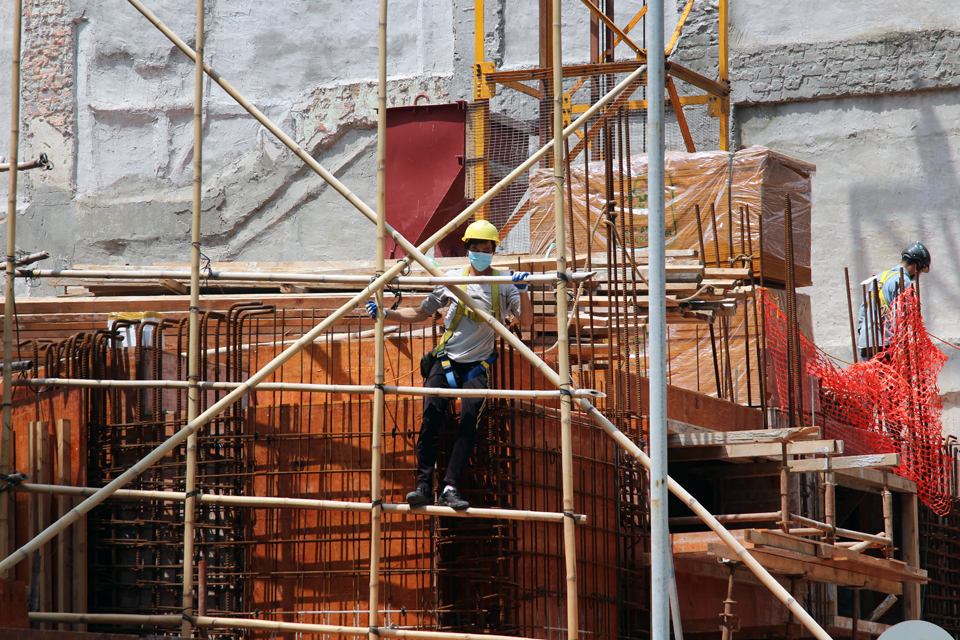 For sign makers, protection from the COVID-19 virus actually involves a two-pronged strategy—both for in the shop and out in the field for surveys and installations. However the good news is that there is solid advice out there you can follow to help you still safely work amongst your surroundings. It requires effort on your part.
J. David Krause, PhD, MSPH CIH, was recently featured April 7 on the weekly ISA COVID-19 Update Webinar series, this one focused on "Health and Safety for Manufacturing Facilities." Krause is founder and president of HealthCare Consulting and Contracting, HC3. He also serves as the chair of the Indoor Environmental Quality Committee for the American Industrial Hygiene Association (AIHA).
A portion of his conversation revolved around reducing the risk of infection when sending your sign shop staff out into the field. His advice included:
Minimize the number of employees riding in the same vehicle. "If you have the ability to send out more than one vehicle, do so," he suggested. "Roll down the windows and increase the ventilation. This reduces the chances of cross infection for employees who are riding in the same vehicle."
Wipe down high-touch surfaces on the job site with disinfectant before and after each use. According to Krause, these range from controls on a high lift to the surfaces inside and outside the vehicle. "Clean and disinfect the vehicle interiors throughout the day," he advised. "[Doing so] will help reduce the chance of the spread of the virus."
Wear face coverings. Krause recommended wearing an N95 respirator mask or higher. When asked about homemade cloth masks, he was skeptical over their effectiveness, feeling that they often don't provide the needed protection to keep you from catching the virus from coughs, sneezes, or other respiratory matters. (Note: The CDC is recommending cloth masks to prevent symptomatic or asymptomatic people from spreading the virus.) "In order to get a surgical mask to actually capture droplet aerosols that come out of a cough, a sneeze or talking, it's not just a piece of cloth. It has a certain weave to it. It has complexity in the material—more or less a moisture barrier in it that helps capture [the droplets]," he said.
Recognizing the shortage of N95 masks in the healthcare community, Krause did say that offering unopened or unused N95 masks you have would not be a bad thing to do, but to be aware that these environments don't accept masks that have already been used. "Your staff may already have face respirators that deal with dust or other pathogens that are…far above and beyond what we are discussing as disposable N95 respirators," he said. "If you have them, use them until they're no longer functional."
Wear Nitrile Gloves. Krause recommended wearing nitrile gloves instead of latex. These can be used two-fold: as protection from disinfected surfaces and as a personal reminder. "Everything has limitations, but nitrile gloves generally give you a pretty good reminder not to touch your face. When you see a big blue hand coming to your face, it does wake you up and remind you not to touch your face or certain items," he said.
However he did say that gloves should be changed out frequently, however it was equally important to know how to dispose of them properly. "You don't want to spread what's on the outside of the glove to the inside of the gloves," he stressed. "It's an important task you need to look into and make sure other people [at your shop] are doing properly."
Krause cited AIHA and CDC recommendations when it comes to properly donning and doffing gloves. The CDC states:
Grasp the outside of one glove at the wrist. Do not touch your bare skin.
Peel the glove away from your body, pulling it inside out.
Hold the glove you just removed in your gloved hand.
Peel off the second glove by putting your fingers inside the glove at the top of your wrist.
Turn the second glove inside out while pulling it away from your body, leaving the first glove inside the second.
Dispose of the gloves safely. Do not reuse the gloves.
Clean your hands immediately after removing gloves.
In the end, Krause believes that, probably for at least the next year, it's going to be commonplace for service providers to take these additional precautions of spending a little more time cleaning, disinfecting, and maintaining their work areas in the shop and out in the field.
To listen to the entire Webinar, click here.
NOTE: The International Sign Association stresses that the information presented in their Webinar is not legal advice, a political opinion, nor the final word. Before taking any actions on the information contained, you should review this material with internal and/or external counsel.