YESCO, the 102-year-old company known for creating, repairing, and maintaining internationally recognizable signs, announces the design, fabrication and installation of new signage for the second location of Freedom Credit Union in Springville, Utah.
The brand-new exterior signage included Watchfire's high-resolution, trimless 10-millimeter electronic message center (EMC) display. The tight pixel pitch on the high-resolution sign allows Freedom Credit Union to display important messages and additional graphics on the 6-foot-tall-by-10-foot-wide monument sign.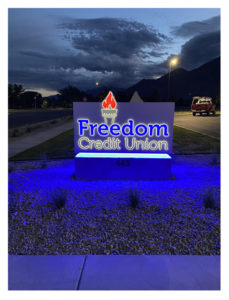 YESCO also added:
A lighted 6-foot-tall-by-10-foot-wide letter set to the building;
A 6-foot-tall-by-6-foot-wide directional sign, and
A hanging 1-foot-8-inch-tall by 10-foot-wide entry sign off the portico.
YESCO began fabrication of the Freedom Credit Union project in July 2022. It took approximately 180 man-hours to complete the project.
"YESCO maximized the Springville sign codes to complete the best sign package for Freedom Credit Union," says YESCO Account Executive Jeff Krantz. "We are thrilled with the results of the professional branding sign project, and so is our client."
—Press Release