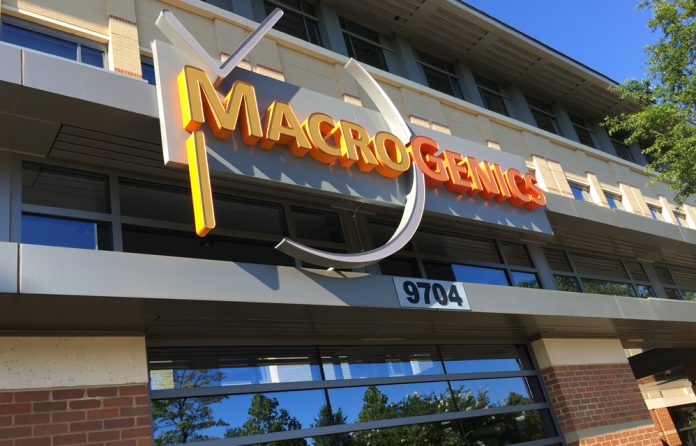 MacroGenics is a biopharmaceutical company focused on discovering and developing innovative antibody-based therapeutics for the treatment of cancer, as well as various autoimmune disorders and infectious diseases. When the company decided to renovate its headquarters, it needed high-quality channel letters that reflected its valuable and important work.
CRB, a global consulting, design, and construction firm, was responsible for the renovation of the new headquarters as well as another facility. They contacted Creative Edge Signs and Graphics in Rockville, Maryland and brought them onboard the project.
"CRB was excellent in facilitating the dialog with MacroGenics at the design stage and provided support for installation logistics," says Barry Wolitzky, owner of Creative Edge Signs and Graphics, a sign company that has been in business since 2012. The company has rapidly grown and currently meets the signage needs of Maryland, Washington, DC, and Northern Virginia.
(Note: This wasn't the first project that Creative Edge Signs and Graphics has completed for MacroGenics. The sign company has also provided wayfinding signage, lobby signs, lab and office signs, and updated monument signs.)
Between the two MacroGenics locations, Creative Edge Signs and Graphics was responsible for providing five sets of channel letters. The shop used SAi Flexi software to design the letters, which spell out "MacroGenics" and feature artistic representations of an antibody and a cell.
Creative Edge Signs and Graphics provides a wide range of interior signage, and their relationship with wholesale manufacturer ABC Sign Systems allows them to also provide channel letters and sign cabinets. They brought ABC Sign Systems in to handle the fabrication on this job, as well.
ABC Sign Systems in Pennsuaken, New Jersey has been around since 1952 and specializes in exterior signage like awnings, channel letters, pylons, and more. The company ships nationwide from its 25,000-square foot facility.
Expanding a shop's manufacturing capabilities is one obvious benefit of partnering with a wholesaler, but there are others as well. "Time and deadlines are very important in this business, and my customers can sub some of their manufacturing to me and handle other tasks on the project or work on getting the next project," says Mike Fulforth, outside sales/project management at ABC Sign Systems. "Cost advantage is another benefit. With the various equipment, employees, and volume, we can make the letters at a lower price point than a customer who is only building a set or two per week."
On the MacroGenics project, ABC Sign Systems fabricated the returns out of standard five-inch channel letter coil and painted them with Matthews Paint. The backs were routed out of .040 white aluminum using a MultiCam CNC router.
ABC Sign Systems used its Accu-Bend channel letter bending machine to fabricate the five sets of letters. The wholesaler also recently added an AdamsTech bender and an EasyTrimmer trim cap machine to their shop.
"For the faces, we used 2447 acrylic because the faces have full vinyl coverage," explains Fulforth. "The 2447 white acrylic allows more light through the acrylic compared to the standard 7328 white acrylic."
The letters are illuminated with wide-angle Everylite LED modules in 6500K white.
In total, the fabrication took about three to five days once the channel letter backs were all routed out. When the letters were completed, ABC Sign Systems delivered them to Creative Edge Signs and Graphics, who then went to work on the vinyl graphics for the faces.
"MacroGenics provided us with the specs for the orange vinyl, and we used 3M™ Scotchcal™ Translucent Graphic Film Series 3630-141 in Gold Nugget to match PMS 138C and 3M™ Scotchcal™ Translucent Graphic Film Series 3630-129 in Bronze to match PMS 167C," says Wolitzky. "We created the gray gradients, which were used in the sign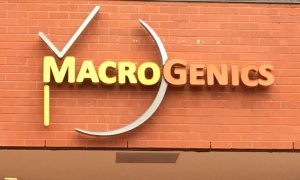 elements."
ABC Sign Systems advised Creative Edge Signs and Graphics on the best installation methods, and with the exception of one set of channel letters, the individual letters were all flush stud mounted with interior access required for the electrical connections.
One set of channel letters posed a bit of a challenge, however, due to the architecture of the building it was being installed on. "This particular set of letters had to be mounted onto the narrow face of a flat roof," says Wolitzky.
"[Wolitzky] and I came up with the idea of a pan to float the letters above the entrance," explains Fulforth.
This turned out to be the perfect solution for supporting the letters. "The sign elements, which are artistic representations of an antibody and cell, hang significantly below and above the pan and required the addition of support brackets," says Wolitzky.
On all of the installations, Creative Edge Signs and Graphics used an Elliott Equipment bucket truck and a sixty-foot JLG boom lift. Each installation took about a half day to complete.
By Ashley Bray
Photos: Creative Edge Signs and Graphics