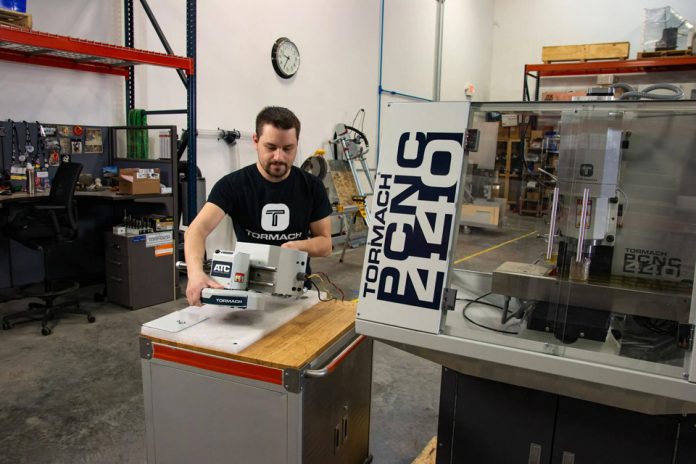 Tormach Inc., a leading supplier of affordable and compact CNC machines, has announced it is now offering assembly services for its line of machines, including the 1100M/MX & 770M/MX CNC Mills, the PCNC 440 Mill, and the Slant-PRO 15L.
By default, Tormach ships its machines unassembled to its customers as a way to keep costs down. Now, for a reasonable fee, customers now have options.
Assembly services are performed at Tormach's facility and offered in a tiered system. Customers can choose the specific accessory or upgrades they would like to have pre-installed before the machine ships, such as an Automatic Tool Changer or Power Draw Bar, or they can opt for full machines assembly.
An in-house Tormach professional will install, align, and test all pre-installed components (if partial assembly is chosen) and major systems to the machines for full assembly. This allows customers to speed up the time to commission their new machines quickly at their shop once they arrive.
"We heard from many customers that they would prefer it if we would provide our machines fully assembled or assist in installing major accessories, and the additional cost was well worth it to them," said Tormach Marketing Director Lori Morrison Bufalo. "We have decided to add this service as a way to make life easier for our customers and much like our philosophy with machine design, every customer has different needs, so you have the ability to pick and choose what you'd like installed by our technicians."
Examples of some of the items Tormach can assemble on its machines include:
Automatic Tool Changers (ATC)
High Performance Servo Motors
Motorized 4th Axis Rotary Tables and Fixed Vises
High-Performance Spindles
Coolant Systems
Enclosures (Dependent Upon Shop Door Dimensions)
PathPilot Operator Consoles
Machine Stands
Tormach also is offering on-site installation services at customer locations. "A Tormach technician will schedule time at a customer's facility once the machine arrives, and they will get it up and running," said Bufalo. "Every step, from stand and enclosure assembly to accessory install and dialing everything in, this is a premium service that gets you making chips really fast."
—Press Release