Trotec co-hosted a series of educational seminars with IKONICS Imaging and JDS Industries in 2018 to provide training on three important technologies—lasers, sandblasting, and sublimation—and to offer insight on how the technologies can work together to give awards and engraving businesses a competitive advantage. Trotec Joint Technology Seminars were held at Trotec's Regional Service and Support Centers in Norcross, Georgia in February, at U.S. headquarters in Plymouth, Michigan in July, and in San Antonio, Texas in November. Proceeds from each workshop were donated to the following local charities: Camp Kudzu in Norcross; Therapeutic Riding in Ann Arbor, Michigan; and the San Antonio Food Bank.
About Trotec Joint Technology Seminars
Designed for beginners as well as advanced users, the two-day Trotec Joint Technology Seminars began with detailed presentations on the basics and best practices of each technology, and hands-on training. The agenda then progressed into advanced breakout sessions, followed by demonstrations on how to integrate the technologies.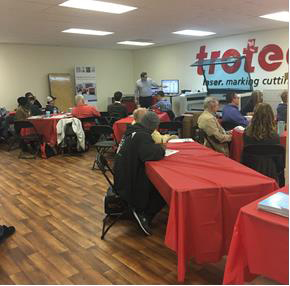 Each of the technologies covered is used in an array of industries and markets. Attendees of the Trotec Joint Technology Seminars were provided with detailed explanations and demonstrations on several of the applications, materials and techniques that can be used for each technology. Examples include sandcarving techniques such as stage carving, frosting and compound curves; how to choose the right laser processing method for your application; and how to step up sublimation results.
Attendees also had the opportunity to ask experts in each area detailed applications questions, and try different techniques for using each technology. Technical experts were available on request to test different materials, including substrates that attendees brought with them.
"These seminars support our ongoing plan to provide our customers with more educational opportunities that will help them grow their business," says Warren Knipple, president of Trotec Laser, Inc. "We are thrilled to see how many forward-thinking businesses are taking advantage of these educational opportunities to broaden their business capabilities and gain a competitive advantage.
"Because we received such an overwhelming response and a great deal of positive feedback, we are planning several more Trotec Joint Technology Seminars for 2019."
For 2019, Trotec Joint Technology Seminars are planned in the following areas: Jacksonville, Florida; Minneapolis, Minnesota; and Seattle, Washington. Visit the events page on the Trotec Web site for more details.
About Trotec
Trotec Laser is a leading international provider of advanced, high-speed laser equipment for cutting, engraving and industrial marking. With the broadest product line on the market, Trotec systems are used to cut, engrave, or mark a wide range of materials including wood, paper, metal, acrylic, leather, stone, plastics, and more. The company's extensive line of quality laser systems, coupled with its unmatched service and support offerings, have made Trotec one of the industry's leading resources for computer controlled engraving equipment and marking systems. For more information, please visit www.troteclaser.com.
About IKONICS Imaging
As an international leader in the development of imaging technologies for over 65 years, IKONICS Imaging continues to be the leading manufacturer and total solution supplier to all sandcarving needs in the awards and recognition industry. Made in America and distributed globally, IKONICS Imaging supplies the most innovative line of sandcarvers, automated washout units, photoresist films, crystal products, and training. For more information, visit www.ikonicsimaging.com.
About JDS Industries
JDS Industries Inc., continues to be the leading supplier of award and personalization products throughout the world. Their centralized call center in Sioux Falls, South Dakota, has a customer service team known industry wide for their knowledge, friendliness, efficiency, and professionalism. JDS Industries has fourteen warehouses nationwide and over 1 million square feet of warehouse space. JDS is able to reach 82 percent of the U.S. in one day and over 99 percent in two days via ground shipping methods. To learn more about JDS Industries visit www.jdsindustries.com.