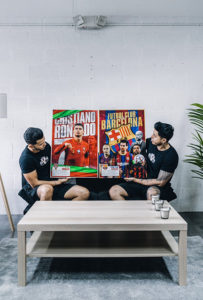 Launching a new business is rarely an easy process so just imagine the added hurdles Facundo Miller and his business partner Brandon Quevedo faced when they decided to relocate their print business from Argentina to the United States.
Amazingly not only did they successfully open SVN Designs last June in a small physical showroom in Miami, Florida, but they have also already racked up 165,000-plus followers by posting their work on social media platforms. This has all led to rapid success with lots of orders for their unique printed artwork and signs.
Miller and Quevedo already knew the U.S. market would provide more opportunities for them than in their native country.
In Argentina, their print business was named Grafica Tecno 7. "The number seven was always very special for us," says Miller. "We wanted to call our Miami business Seven Designs, however that name was already in use, so we went with SVN Designs."
Today they have three other people on their staff—Jose and Pipi in production and Fede in graphic design.
All of the company's designs are made from scratch. SVN Designs creates logos boasting an "incredible" 3D effect that attracts attention and customers. "We manufacture them out of acrylic using different thicknesses and techniques," explains Miller.
Their production floor boasts several laser-cutting machines, a laminator, a Roland TrueVIS VG3 printer, and a Roland TrueVIS VG2-640 wide format printer/cutter. "We use the seven-color configuration including, magenta, cyan, yellow, orange, light black, green and black, which provides outstanding color saturation," says Miller.
The company offers acrylic wall art, acrylic signs for businesses, stickers, and keychains. Thanks to their equipment, they have recently started offering canvas wall art.
SVN Designs' main sales channel is handled online, as their customers design and submit their orders either through their website, Instagram account, or Etsy.
"If there are no doubts from either party, we put the order into production immediately," explains Miller. "But if the customer wants a personalized product or has questions, we initially design free mock-ups so they can see how their sign or image would look. Then once the design is confirmed, it goes into production. Within a maximum of seven days, we ship their products."
SVN Designs has capitalized on social media platforms (mainly Instagram and TikTok) to increase their exposure and visibility.
When they relocated, Miller and Quevedo knew they were going to focus 100 percent of their marketing on social media, strategically taking advantage of the TikTok and Reels boom. "We spent several months testing different types of videos, or ways to go viral on social media," says Miller.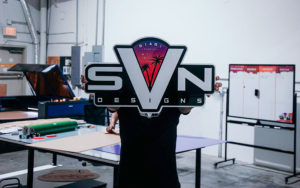 They finally hit on the right type of video formula—manufacturing the signs, doing transitions, and peppering them with a comedic tone. On Instagram, their first video that went viral enjoys 2.7 million views and over 150,000 likes at press time, while a follow-up post garnered 2.4 million views and 160,000 likes and generated more than 140,000 followers in 15 days.
"We also have several videos on TikTok with millions of views," says Miller, noting that are reaching nearly 90,000 followers. "One has even reached over eight million views!"
Miller is extremely confident that the viral spread of his videos on social media has been a huge boon for SVN Designs. "Once people get to know you and start recommending you, opportunities come on their own," he says. "Right now, we are working for several growing companies with expansion throughout the United States. We are really grateful that they chose us and that we are able to support them on their path to success."
When Miller and Quevedo opened SVN Designs, they came up with the guiding slogan "From Miami to the world"—a motto they take quite literally. They are already selling to clients from seventeen countries in North and South America, Europe, and Africa and are hoping to reach many more soon.
"We have a good mix of clients," says Miller, noting that they are also generating a "surprising number" of word-of-mouth referrals. "We have several corporate clients that are already frequent customers, who contact us when they need to promote their brand."
Corporate signage is very important to them. "Our star products are the logos we create for businesses," says Miller.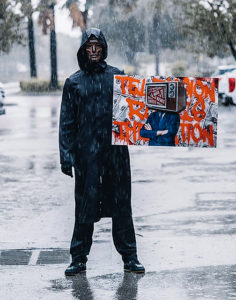 They also show off their original designs on their website and have found these growing popular with consumers. "We offer a premium product and want to make it available to as many businesses and homes as possible," says Miller. "We love surprising our clients. Their expressions of happiness when they see that we exceed their expectations are the best."
The original plan for the Argentinian duo was to not open a physical showroom in Miami instead wanting to keep their work 100 percent social media generated. "But over time, we realized that many people wanted to come by and see what we create," says Miller.
Miller says anyone can stop by the showroom to see their manufacturing process, talk to them, or simply pick up their designs. They 100 percent guarantee that their customers will spend a pleasant time there.
Their exemplary work further provides evidence that this shop could very well be one of the "SVN wonders" of the print world.