Once out of their packaging, the storage of rolls is often problematic.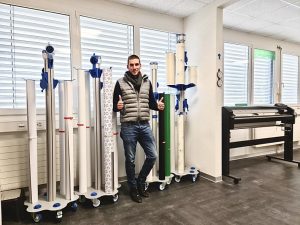 In addition, the weight, clutter, and lack of protection of the rolls complicate their handling.
The observation of working methods in digital print workshops led the French company Stock & Roll to think of a solution with no constraints. Key words of this optimal solution are "Ergonomics and Productivity."
Unlike many others roll systems that are too voluminous, heavy to move, impractical, and not ergonomic, the Stock & Roll support system is a complete solution to solve storing and transporting problems of large-format rolls. The Stock & Roll is both compact and very mobile. Thanks to its patented reel holding system, it ensures a safe movement in your workshop.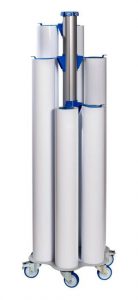 With Stock & Roll, your rolls are clean and protected, better stored, and easier to handle.
Versatile: Designed for two-inch and three-inch cores.
Identification: Designated location on it.
Mobile: Six high-performance wheels.
Compact: The Stock & Roll has a small 60cm base.
Reliability: Excellent weight/resistance ratio.
Simple: One-hand blocking system.
Safety: Patented holding system for six rolls.
"Luxe Auto Concepts isn't your average sign or wrap shop. We are constantly pushing the envelope with vinyl products in the automotive space and have even invented our own vinyl film LightWrap," says John S. Luxe, Auto Concepts in Shreveport, Louisiana. "We use many different types of vinyl in our various products, and the stations for different manufacturing steps are spread out and sometimes in different rooms. The Stock & Roll units have increased our efficiency by allowing the vinyl to be moved from station to station with better tracking and less physical work for the employee. We replaced a few wall units that held the vinyl horizontally with the Stock & Wall units, and the simple fact that there isn't a dowel rod to remove from the vinyl has been a huge improvement. The only thing I wish is that I had more of them!"