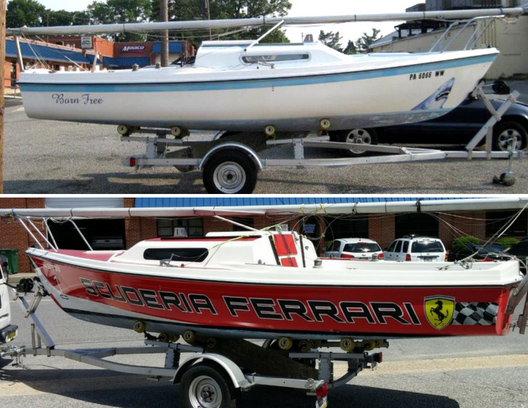 June is boating month and the start of the summer. Thousands will take to the vast waters on their vessels to fish, cruise, swim on the beach, or visit their favorite, waterfront restaurants and events. No doubt, this is the best time for your business to get noticed by these spectators.Whether for business or sport, Signarama®, the world's largest sign franchise, can take your boat to the next level by offering a unique, lower-cost advertising avenue to get noticed on the waters, through vinyl boat wrapping and graphics, which add many benefits to your investment (including protecting your boat from the elements).
"Boat wraps and graphics have become a huge industry here in Florida, especially during the summer when boating is at its peak. Whether you want to advertise a limited-time special event, looking to connect more immediately and directly with consumers, or simply want to unify the look of your business' vessels, Signarama will work with you to create the ideal product," said A.J. Titus, president of Signarama.
Company professionals can help you design a wrap or graphics package and different levels of coverage, offering everything from simple stern graphics with your boat name and port, to full-color, full-sized graphics for the sides of your boat.
In addition to protecting the vessel from the elements, vinyl wrapping, which has a long lifespan and can be done in one or two days, has many other benefits. Cleaning only requires soap and water, the wrapping is reversible without damaging the boat's original paint, and it is even a safe, eco-friendly alternative.
"Many of our clients have found wrapping to be a great way for them to get their logos on the water and in front of thousands of potential customers," said Titus. "A lot of people tell us that they receive calls when they are on the water after customers see their phone numbers on their boats. It's an instant, cost-effective way to connect with consumers and keep your boat in top shape."
Signarama has created boat graphics for various types of vessels including, but not limited to, yachts, racing crafts, dive boats and more. Whether you want to match an existing graphic or completely transform your vessel's look, the local Signarama teams are ready to create custom designs no matter how simple or elaborate.
There are over 800 Signarama stores across the globe. Signarama is a proud member of the United Franchise Group, a group of affiliated companies and brands. To learn more about Signarama's products, services, and locations, visit Signarama.com.