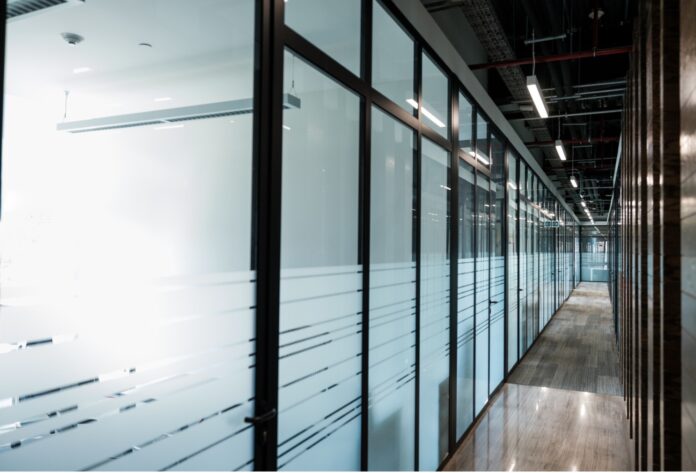 Nekoosa, a manufacturer of specialty print media for the sign and graphics industry, announces Nekoosa Glass Finishes™, a new portfolio of printable and plottable window films designed for privacy and finishing purposes on the interior and exterior of commercial buildings. Available in Deep Etch, Light Etch, Dusted Crystal, Frost, Sand Blast and Sand Matte finishes, each film offers a degree of privacy by obscuring direct visibility while allowing excellent light transmission.
"With Nekoosa's new customizable window films, customers can now reimagine their space and achieve the perfect balance between aesthetics, uniqueness and privacy," says Aaron Bares, Nekoosa's Product Manager. "Nekoosa Glass Finishes™ can transform plain glass in conference rooms, storefronts, office spaces or lobbies to create a sense of privacy without sacrificing natural light or creativity."
Each film includes a solvent-performance permanent adhesive that allows for up to seven years of outdoor use, as well as a 3 mil PET liner for printing and plotter-cut applications.
Nekoosa Glass Finishes™ also includes a Bird Safety Film that allows birds to see windows that otherwise appear invisible, ultimately reducing the risk of injury or death for the bird, and structural damage for the building.
$5 Nekoosa Bucks are available in each product within the Nekoosa Glass Finishes™ portfolio. Users collect Nekoosa Bucks in specially marked cartons of wide format print media year-round and redeem them online for a gift card of their choice.
The Nekoosa Glass Finishes™ portfolio is sold through paper and graphics distributors throughout the United States and Canada. Click here to request a free Nekoosa Glass Finishes™ Sample Fan-Out. For more information, please contact [email protected] or visit the website.