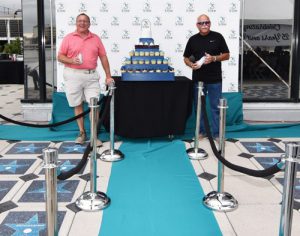 On May 2, employees at S-One Holdings Corporation's Sarasota headquarters celebrated the company's 25 years with a rooftop soirée. Employees marked the occasion by creating a walk of fame featuring each of their names in stars on the fourth floor rooftop patio of Downtown Sarasota's Ellis Building on Main Street.
The event featured S-One founders Ron Simkins and Art Lambert (pictured, right), who started their first company, LexJet, in Sarasota in 1994. In 2012, the duo officially combined several other companies, Utopia Digital Technologies, Brand Management Group and ABAQA to form S-One Holdings Corporation. Last year, the S-One team launched its newest company, S-One Labels & Packaging.
S-One kicked off its 25th anniversary year by publishing its 2019 Culture Book, which features customer and employee stories, a look back at how S-One companies have impacting the printing industry, and how S-One has touched its local communities.
In Sarasota, S-One ramped up its fundraising efforts to benefit Sticks for Soldiers and Alex's Lemonade Stand. The company and its employees have raised $7,500 so far in 2019, with more special events planned throughout the year.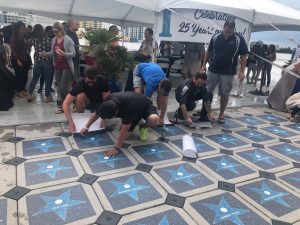 The company was thrilled this year to win two Stevie Awards from the American Business Awards. The winners were determined by the average scores of more than 200 professionals worldwide in the two-month judging process. S-One was honored in two categories—Company Book and Innovation of the Year.
"To think we've made it to twenty-five years is just astounding," says Lambert. "It's been quite a ride, and we couldn't have done it without all of our dedicated employees who show up every day and give it their all. They've not only created a excellent company, but an extended family, as well. Ron and I couldn't be more proud."
—Press Release