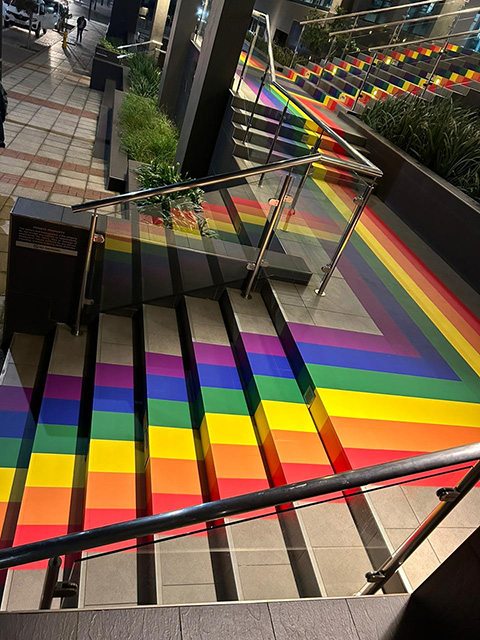 South African sign manufacturer and installation company Prestige Signage used Drytac Polar Grip and Protac Floortex 200 laminate to produce a set of colorful floor graphics to help a client celebrate this year's Pride month.
Based in New Germany in Durban, Prestige Signage has been working with customers in South Africa and across the wider African market since 1974. The company has evolved from offering traditional sign writing techniques to using modern technologies such as digital print to deliver a range of signage services to clients.
Its most recent project for a call center based on the Ridge in Umhlanga, Durban, involved Prestige creating rainbow-colored floor graphics themed on Pride month, an annual celebration of LGBTQ+ pride. The graphics were to be installed on stairs leading up to the busy front entrance area of the client's building.
For this reason, Prestige Signage chose to work with Drytac materials. The company has been using products from Drytac for more than a year and was aware of not only the output quality on these materials but also their hard-wearing nature in high-traffic areas such as building entrances.
Prestige selected Polar Grip white polymeric self-adhesive vinyl for the rainbow graphics and used Protac Floortex 200 PVC over-laminating film to protect the graphics from heavy footfall up and down the stairs.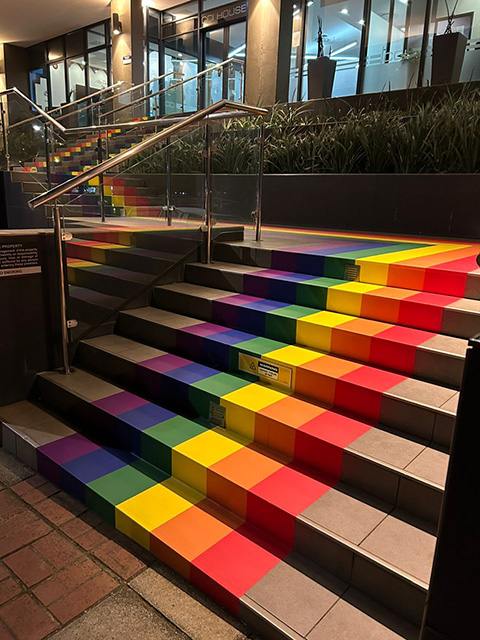 Both materials were purchased from Midcomp Consumables South Africa, an approved Drytac distributor in the country. The graphics were printed in house on Prestige Signage's HP Latex 800W machine.
"We wanted a very high-quality product for one of our best clients," said Prestige Signage Chief Executive Officer Belinda Lotter. "With the product being installed on stairs that have high traffic throughout the day, we needed a tough, consistent product that could take the stress while also being safe to walk on.
"The slip rating of the Floortex laminate and the aggressive adhesive of Polar Grip made these the perfect products for our and our client's needs. Polar Grip also has excellent printing properties on our printer; the vivid ink colors are amazing and make the rainbow shades look just incredible."
"The customer was amazed by the vibrant look and feel of the branding," concluded Lotter. "It was better than anything they had imagined!"
—Press Release