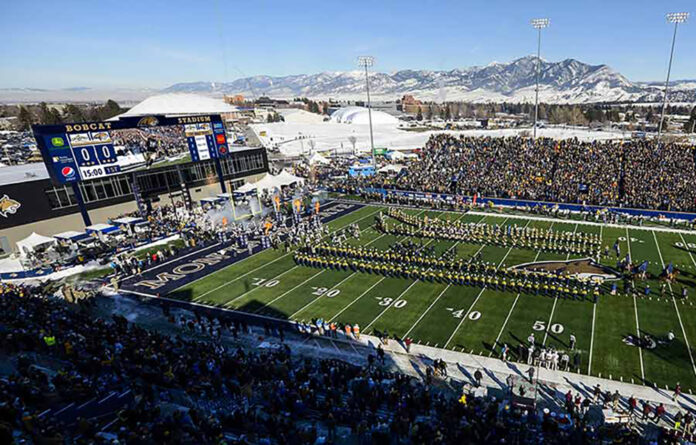 Bobcat Stadium in Bozeman, Montana, is poised for a new energizing game-day experience as Daktronics (NASDAQ-DAKT) of Brookings, South Dakota, has partnered with Montana State University to deliver an audiovisual upgrade of an LED video display and custom audio system. Football and other events will benefit from the new end zone display in the summer of 2024.
"We are excited to enhance the game-day experience at Bobcat Stadium from a sound and viewing perspective," said MSU Director of Athletics Leon Costello. "This project will increase an already electric atmosphere at MSU on game days. We had hoped to have this installed earlier but understand market constraints concerning labor and materials and are excited to get this installed next summer."
The new end zone LED video display will measure 30 feet high-by-100 feet wide and will feature 10-millimeter pixel spacing to bring excellent image clarity and contrast to fans throughout Bobcat Stadium.
The display will also feature Daktronics industry-leading environmental protection ensuring it operates as expected in the Montana outdoors.
The 2023 season will mark Montana State's fiftieth playing in its current structure, which opened as Reno H. Sales Stadium in 1973. Renovations, including score and sound updates, came in 1998 and 2011. The 2024 audiovisual upgrade will give Bobcat Stadium the largest scoreboard in the Big Sky Conference.
"Adding to the game-day experience already entertaining fans at Bobcat Stadium, this new installation and video display will take the fan engagement to the next level," said Daktronics Regional Manager Brady Jacobsen. "We're proud to be a part of this great project and look forward to it making a positive impact on game day."
The display is capable of variable content zoning allowing it to show one large image or multiple zones of content that audiences crave throughout events. This includes live video, instant replays, game statistics and information, graphics, and animations, and sponsorship messages.
—Press Release