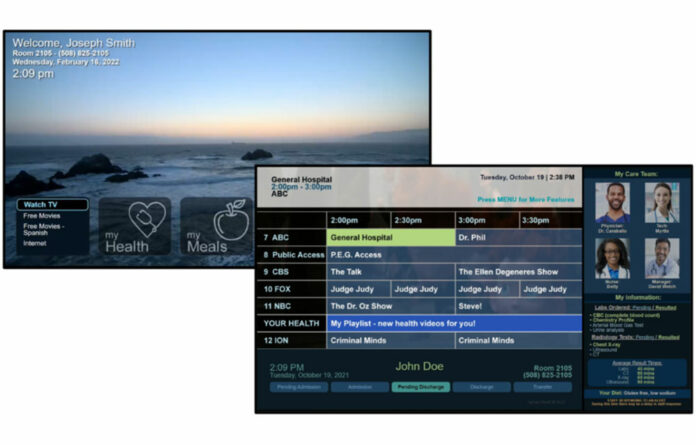 Hospital TV leader LG Business Solutions and healthcare technology innovator Aceso Interactive are collaborating on a new platform designed to deliver customizable, personalized content to digital displays in healthcare settings.
Aceso's new Pane of Glass™ platform enables hospitals to use digital displays as blank canvases, allowing full control of the information displayed. According to LG Business Solutions USA's Healthcare Director Tom Mottlau, LG's Smart Hospital TVs are the ideal choice to run Pane of Glass thanks to their powerful computing attributes that enable native operation without any additional hardware.
"Aceso successfully leveraged the superior processing power of LG's Smart Hospital TVs to host and run the new Pane of Glass platform natively, simplifying system design and lowering total costs," Mottlau said. "Since no additional hardware is required, the displays can be mounted anywhere there is a power outlet and then connect to the network either wirelessly or through a hard-wired connection."
Aceso's patented platform consumes and presents data from various clinical, AI and operational source systems, and seamlessly integrates virtual care and remote monitoring services. The result is a user-friendly experience for both patients and clinicians, and a personalized view of patient-specific clinical or care team information, entertainment, education, and more—all delivered directly to the patient room TV.
"Aceso's Pane of Glass allows care providers to improve the in-room patient experience while simplifying workflow and backend operations, and maximizing the use of available patient data," said Aceso President and Co-Founder Geoff Fiedler. "Our open platform simplifies data and technology integration, while centrally managing all connected displays across multiple buildings or locations. The simplicity of this combined solution is a cost-effective way to use the LG Smart Hospital TV as the endpoint to deliver a wide range of content, data and services."
As providers continue to enhance patient experience and the use of telehealth services accelerates, Aceso sees a growing need for permanent in-room displays that patients and providers can rely on 24/7. "Always on" screens are critical for around the clock care. They allow for special features such as the ability to let a patient know a staff member is entering the room, complete with a photo and their role. Organizations looking to deploy the new Pane of Glass platform can also use existing non-smart displays through the addition of an LG set top box.
"One of the most important aspects of hospital technologies is that they must ensure reliability and capability to meet 24/7 needs," Todd Babineau, Aceso's Chief Operating Officer and Co-founder said. "We confidently invest in developing our patented solutions to run on LG's commercial displays and set- top boxes because the webOS™ software and technology has been consistent for generations, providing surety for future compatibility."
One aspect of the new software that's sure to excite hospital administrators and planners is the cost savings it can offer. While many organizations still use mobile carts to provide video displays on demand, total costs that can exceed $10,000 per unit greatly limit deployment and they require front-line staff support. Aceso says that in many situations patient rooms can be outfitted with a new Pane of Glass-powered display for less than $2,000, greatly reducing the cost per room while expanding use and eliminating the need to constantly move, clean and store expensive portable devices.
"The simplicity LG and Aceso are offering through the Pane of Glass capability is much needed in healthcare settings," added Mottlau. "Hospitals that deploy this solution can enhance the patient experience by making treatment more transparent and providing relief for staff by putting information at the patients' fingertips."
The Aceso Pane of Glass on LG Hospital TVs also enables a range of room configurations through features such as screen splitting, where content is split between two in-room displays. One such setup could dedicate a display for media viewing and entertainment while a second display, perhaps a touch screen, shows patient information or serves as an active whiteboard.
—Press Release