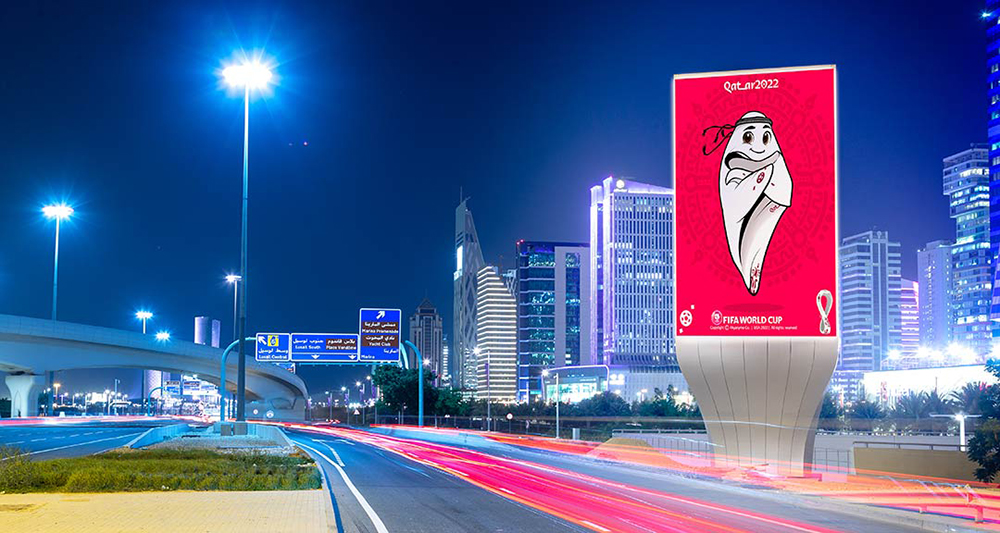 Daktronics partnered with Qatar's Elan Media to design, manufacture, and install thirty-eight digital LED displays in Out of Home (OOH) locations in Doha in the fall of 2022. Located in some of the busiest areas in Doha, these displays were instrumental in supporting the dozens of advertisers and sponsors during the global event held in the city and were viewed by the event's millions of visitors.
"These screens deliver exceptionally sharp, yet smooth visuals, with millions of colors bringing optimum vibrancy to the creativity of brands and their desired messaging," said Bill Fordyce, Chief Operating Officer, ELAN Media. "This has enabled us to once again demonstrate our leading capability in delivering extremely impactful media for advertisers in highly strategic locations."
The OOH Displays
A total of 30 Boulevard Totem displays each feature 3.9-millimeter pixel spacing and measure 1.75 meters high-by-1.25 meters wide.
Eight more displays each feature 10-millimeter pixel spacing, including the following:
Two Gateway Totem displays each measuring 8.96 meters high-by-5.12 meters wide.
The View display in Al Manaseer measuring 7.04 meters high by 14.08 meters wide.
The Wing display by the Equestrian club measuring 4.8 meters high-by-19.84 meters wide.
Bawabat Al Waab's two displays in Al Bustan measuring 4.8 meters high-by-9.92 meters wide.
The Crown display in Al Waab Street measuring 8.64 meters high-by-5.76 meters wide.
Al Masa display opposite Villaggio mall, also measuring 8.64 meters high-by-5.67 meters wide.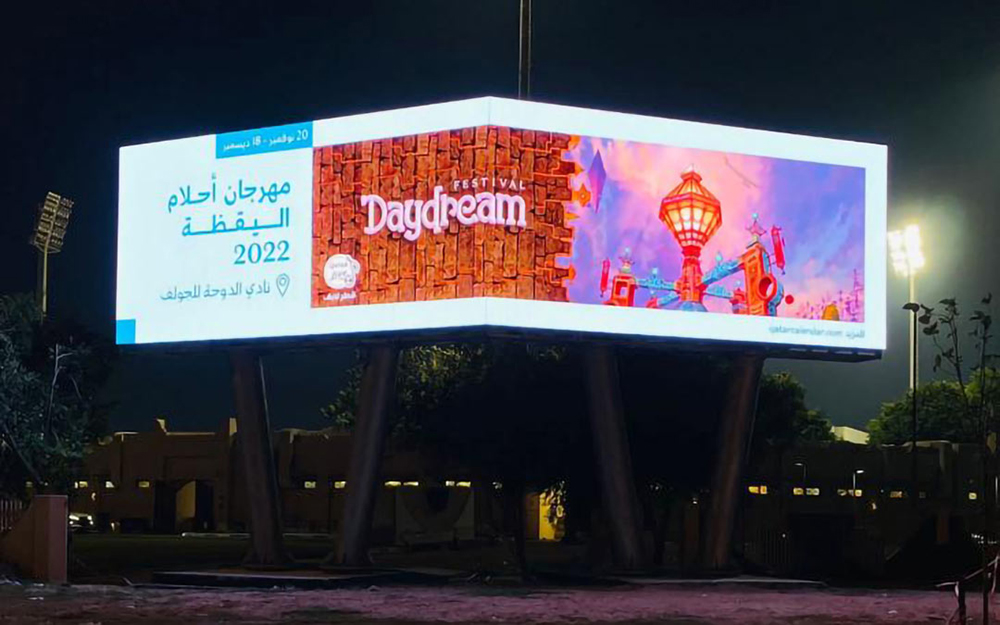 "Building community and bringing people together with consistent messaging and advertising is what we're delivering with these LED displays recently installed in Doha," said Ahmad Dahmash, regional manager at Daktronics. "Elan Media has been a fantastic partner in providing these displays and we're excited to continue our partnership as we bring beauty and elegance to OOH messaging in Qatar."
This project with Elan Media comes on the heels of a recent project for Place Vendome Mall, also located in Doha.
These digital displays allow for content to be scheduled or messaging to be changed at a moment's notice to promote timely information and announcements for residents and visitors in Doha.
—Press Release