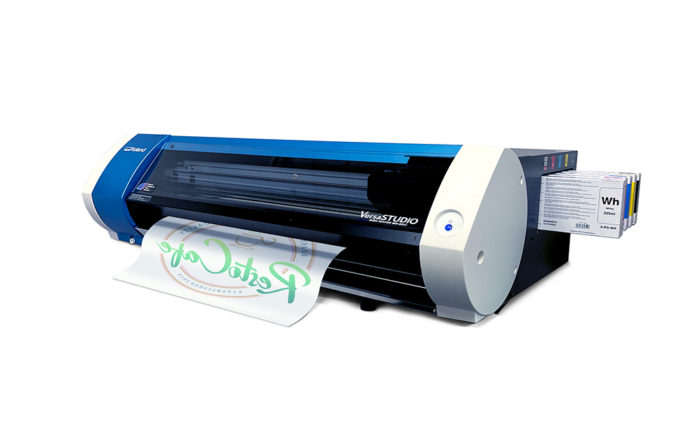 Roland DGA Corporation, a leading provider of wide format inkjet printers, printer/cutters, vinyl cutters, and other advanced digital devices, has announced the launch of its new VersaSTUDIO BN-20D Direct-to-Film System.
Combining outstanding print quality with simple, ultra-reliable operation, this advanced, affordable desktop solution makes customizing apparel and accessories with eye-catching graphics—even the most detailed images and text—easier than ever.
The BN-20D Direct-to-Film System complements Roland DGA's existing family of compact, powerful VersaSTUDIO machines designed to help smaller home- or office-based print providers build their businesses.
Built around the solid performance and unmatched dependability of a powerful, compact BN-20D Direct-to-Film Printer, the system is a complete apparel decoration solution that consists of specially formulated S-PG inks in CMYK and White, S-F164 direct transfer film, and S-POWDER direct transfer powder (each sold separately). Equipped with this system, users can create stunning custom T-shirts, tote bags, aprons, and more in just four simple steps with no weeding or masking required.
Direct-to-film (DTF) transfer has been attracting worldwide attention in the apparel decoration industry due to how easy this process makes enhancing clothing and accessories with head-turning graphics.
After printing illustrations, photos, and other graphics on a special film, powder is applied to the to the film, which is then thermally melted. This eliminates the need for labor-intensive removal of waste from unnecessary areas, and retouching, which not only makes the work process more efficient, but also allows for the production of more complex and appealing designs.
"A significant advantage of the BN-20D Direct-to-Film System is its ability to print extremely detailed images and fine lines that would be difficult, or even impossible, to weed using vinyl," points out Roland DGA Product Manager of Digital Print Daniel Valade. "In addition, knocking out the backgrounds in the design and using the garment color as the background allows for a transfer with a soft, natural hand."
While the direct-to-film process does not require integrated print and cut functionality for the application, the BN-20D can also be used as a stand-alone vinyl cutter, allowing users to expand their application offerings.
Making the switch from direct-to-film printing to CAD Cut vinyl cutting is quick and easy, requiring just a few clicks of the mouse in the BN-20D's included VersaWorks® RIP software.
Like all BN-20 Series devices, the BN-20D Direct-to-Film Printer is designed to deliver vibrant, consistent output, backed by Roland DG's industry-best manufacturer's warranty.
Variable dot printing produces droplets of seven different sizes for detailed graphics, realistic photographic reproduction, smooth gradations, and superb contrast, while Roland Intelligent Pass Control enhances image quality and color by precisely controlling dot placement between passes.
The BN-20D can transfer onto both light and dark fabrics, including not only cotton, but also polyester, cotton polyester, denim, nylon, rayon and more, to produce a wide variety of garments.
An automated cutting function also makes it possible for the BN-20D to produce logo and other graphic designs using glitter and metallic color vinyl, which is difficult with standard inkjet printing.
In addition, the ink is compliant with OEKO-TEX*, an international standard that guarantees the safety of apparel decoration, making it safe for use on clothing for children and pets.
Other noteworthy BN-20D features include an updated ink delivery and recirculation system engineered to ensure reliable performance, day-in and day-out. Dedicated channels for CMYK along with an improved white ink delivery channel allow the BN-20D to produce rich, vivid color while also achieving optimal white ink opacity for printing on light-and dark-colored garments and accessories.
The BN-20D Direct-to-Film Printer comes bundled with VersaWorks 6 software—Roland DG's most advanced, user-friendly RIP to date. VersaWorks 6 boasts a HARLEQUIN RIP dual-core engine, faster processing speeds, the ability to handle and correctly process complex PDF, EPS, and PS files with drop shadows and transparencies, comprehensive Roland Color System and PANTONE color libraries, plus a host of additional useful features.
"Apparel applications continue to be a driving force behind the small business market segment, and the direct-to-film process has grown in popularity," said Valade. "The new BN-20D Direct-to-Film System offers what the competition simply can't provide – optimum print quality, ease of use, and legendary reliability, backed by a Roland DG manufacturer's warranty.
"This system provides small office and home office businesses with the tools they need to produce top-quality direct-to-film apparel with complete confidence."
Roland DGA Small Business Segment Manger Angelyn Cubacub is excited about what the BN-20D Direct-to-Film System brings to the VersaSTUDIO product line. "It's an effective, value-packed solution with a small footprint that's ideal for any business with limited space and funds that wants to offer quality apparel and textiles," Cubacub noted. "Users equipped with this system no longer have to shy away from more detailed, intricate designs—the possibilities are endless.
"Whether it's your first Roland DG device or an addition to other Roland DG machines, you can't go wrong with the BN-20D."
—Press Release
*Expected to be achieved in February 2023.