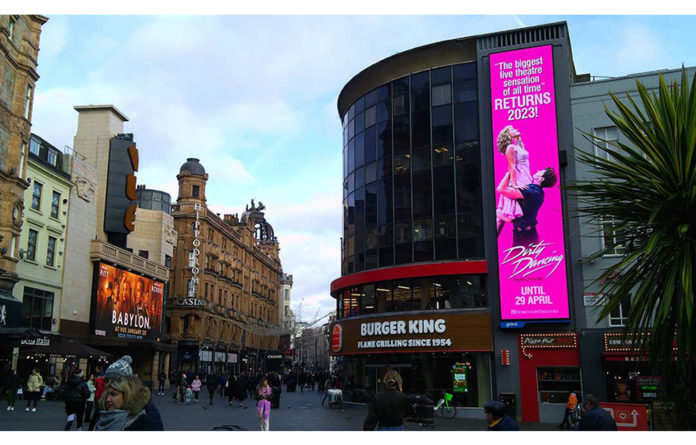 Daktronics has partnered with SOHO Estates Portfolio Limited to deliver an enhanced visual experience on the exterior of its building in London. The video display installation is currently taking place and will soon be switched on to share messaging and information with people passing by this prime location within the city.
"We are delighted to add these screens to this vibrant area of London. The screens aim to promote new and innovative ideas. Leicester Square is a cinematic destination and Soho Estates is happy to enhance this," said John James, Managing Director, Soho Estates Limited.
"These displays bring an exciting and enticing view to messages being shared in London," said Patrick Halliwell, Daktronics regional director. "Working with SOHO Estates has been a great experience and we're looking forward to the commissioning of these new displays to bring light to this great location."
Each of the two LED displays will measure 12.8 meters high-by-2.88 meters wide and feature 6-millimeter pixel spacing to deliver crisp, clear imagery to people as they pass by this location. They feature industry-leading environmental protection to ensure they operate as expected in the outdoor elements of London.
Daktronics provides digital technology solutions that offer flexible scheduling for multiple advertisers as well as quick and easy changes in content, as can be seen by installations such as the Piccadilly Lights. Additional services provided to the Out of Home (OOH) advertising industry add value and generate revenue for customers.
—Press Release