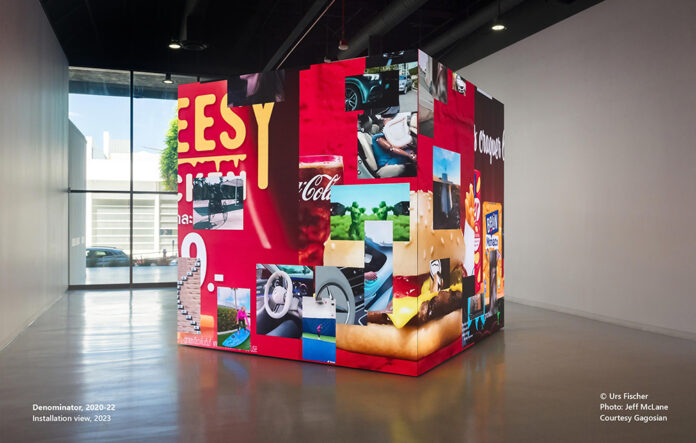 Contemporary and modern art gallery Gagosian moved the digital art piece Denominator from one of its New York City galleries across the U.S. to Beverly Hills, California. The exhibit is a giant LED video cube featuring the work of a renowned Swiss artist and is part of a series designed as a "mesmeric demonstration of broadcast advertising's capacity to penetrate human consciousness."
"This collective human experiment—public relations, marketing, advertising, whatever—leads to a complete replacement of any images we have inside us," said Urs Fischer, a visual artist whose work explores themes of perception and representation.
Each face of the Denominator LED cube portrays advertisements drawn from television and social media from 1950 to the present in a shifting composition. The digital art installation uses an AI algorithm to deconstruct the ads into individual clips, group them by theme or color, and portray them in layered patterns and choreographed sequences.
Comprised of five LED screens built from SNA Displays' BOLD™ Interior product series, the art piece  employs 2.5 mm pixel spacing and is mounted to a free-standing steel frame custom-designed and precisely installed to minimize seams.
"Denominator provided an interesting design challenge because the artist wanted the cube to 'float' one inch above the exhibit floor, said Jason Helton, executive vice president at SNA Displays. "This artistic feature made the piece's dimensions absolutely critical."
Each face, including the cube's top cap, is 11-feet-10-inches square, and the digital art piece processes approximately 10.4 million pixels in total.
"We're excited for LA-area residents to experience Denominator in person after such a warm reception in New York," Helton added. "LED-based digital art installations like this are among my favorite because they demonstrate the power, beauty, and flexibility of the digital canvas."
Digital Dreams provided installation services.
The exhibit is installed at 433 North Camden Drive, opposite the Gagosian gallery in Beverly Hills, and has been extended to run until November 4.
—Press Release