The Forsyth County School District in Georgia knew that it was time to update all the on-premise monument signage standing on their school properties. For years, these brick-column signs had been using a single-illuminated, manual changeable copy cabinet.
Officials wanted to improve these structures with the ability to provide custom-tailored, easily updatable messaging.
They knew digital display technology would pass this test with flying colors.
So, in October of 2022, the Forsyth County School District opened RFP bidding for this large-scale sign project—the refitting of these monument signs at each of their forty-two school locations with various-sized lighted cabinets featuring the school names at the top and state-of-the-art 10mm digital sign displays below. (Note: Officials felt that a 10mm pitch resolution of the digital displays could properly handle photos, images, and text.) The selected sign company would also be tasked with removing and discarding the existing components from their monument housings.
One more thing: the Forsyth County School District wanted all forty-two monument signs to be retrofitted by April of this year—a mere six-month timeline.
Talk about a monumental project!
In the end, The Sign Store of Macon, Georgia was awarded the RFP, as unlike many of the other companies involved in bidding, they knew they would have no problem whatsoever meeting this timeframe.
They really knew the answers to this challenge as they were able to install every single new lighted cabinet and digital display into all the monument encasings by December of last year—an astonishingly full four months ahead of schedule!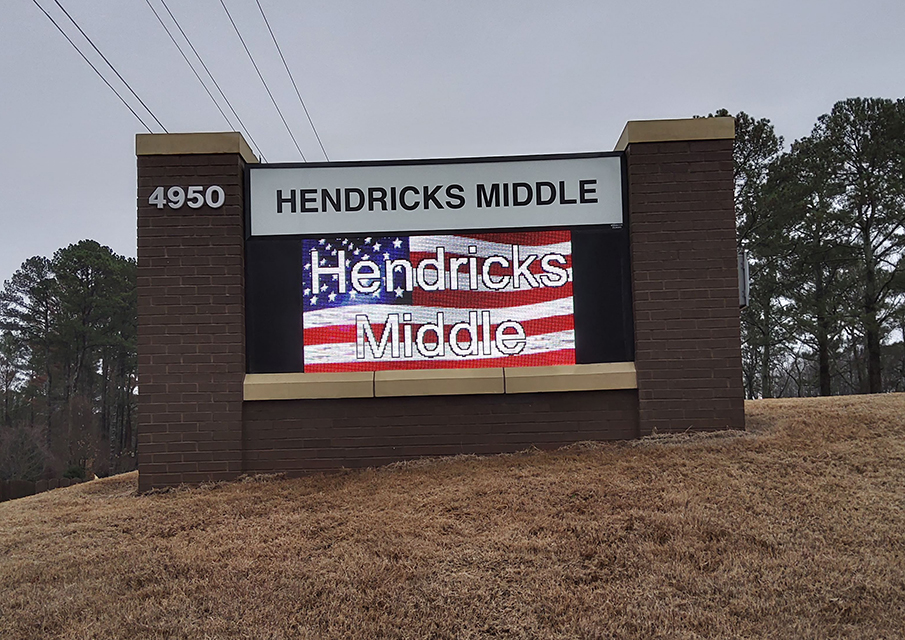 The Sign Store is a full-service sign solutions provider that has been around for twenty-five years now and currently boasts a workforce of thirty-seven quality employees. They offer customers every aspect of a project—design, fabrication, installation, and maintenance.
Their in-house equipment of CNC routers, roll-to-roll and flatbed printers, direct print systems, benders, and paint booths allows them to succeed on custom projects such as channel letters, vinyl graphics, vehicle wraps, monuments, pylons, ADA, and more.
However The Sign Store is a little different than most sign shops. Ever since installing their first outdoor digital sign for a nearby museum in 2000, The Sign Store has prioritized LED displays. Today this segment accounts for nearly 25 percent of their business.
"Once customers know that you sell digital signs and are well informed with the terminology, how the software works, and can make repairs as needed, they're confident spending the money to purchase these displays," says Mike Lewis, CEO (and one of the three co-owners) of The Sign Store.
At the time of their first install, Lewis noticed people were asking about digital signage yet many of the shops in his area not being comfortable with it. An opportunity to be had presented itself!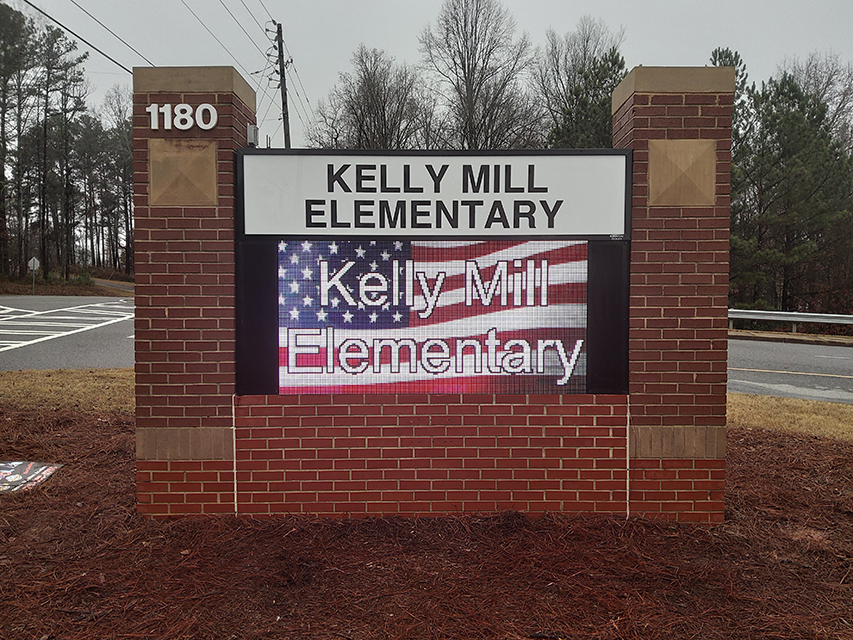 Lewis acknowledges he is fortunate to have people on his staff who are technically savvy and comfortable with digital technology.
In fact, one employee, Nate Johnson, is strictly their digital sign specialist. "Nate has always been excited about digital signs and was able to work through the process with us without any problems," says Lewis. "He trains others, makes sure the displays are installed correctly, takes care of any maintenance, teaches customers how to operate the software, etc.
"In fact, Nate was a huge part why this project turned out successful for everyone."
For this county-wide school project, The Sign Store decided to focus their attention on fabricating the lighted sign cabinets and support frames having Vantage LED, a manufacturer they've worked with for thirteen years now, supply the 10mm digital screens.
Lewis reached out to Vantage LED National Sales Manager Josie Salitrero with questions about producing such a large quantity of signs in a shorter timeframe. "She confirmed they could produce all the digital signs within four weeks from our order," says Lewis.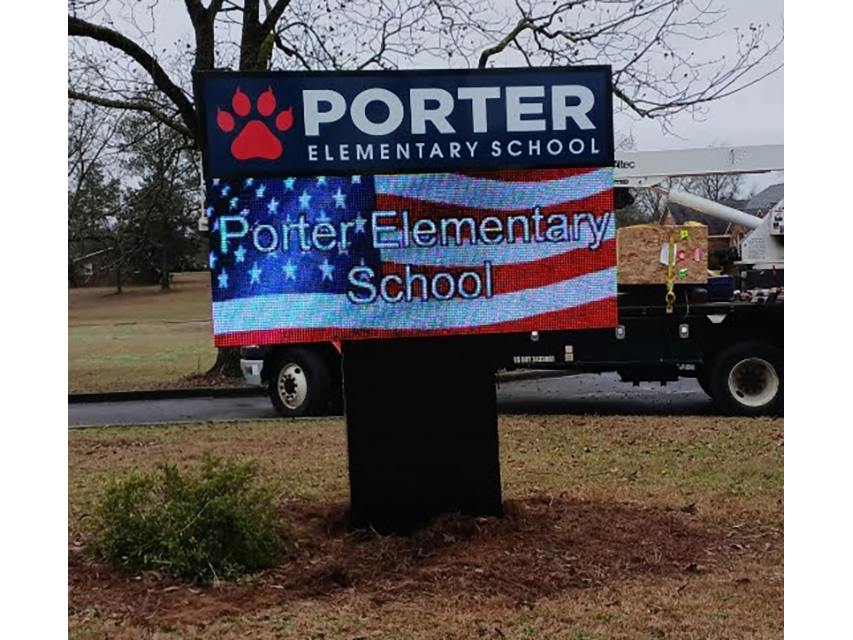 Preparation was key. Lewis met with each department at his company before submitting the initial RFP quote. He wanted to ensure that everyone would be able to meet the requested deadline. Lewis credits:
His sales team for preparing the presentation that answered all the questions correctly and included photos, letters of recommendation, and a detailed outline on how The Sign Store would manage the project;
Accounting for ensuring that they could acquire the funds to support the cost of the project;
Production for fabricating forty-two unique lighted sign cabinets and support frames for each school; and
The Installation department for scheduling two separate teams for each stage—two crews of installers removed the existing signs so the school district could do maintenance on the monuments (power washing, electrical, etc.), and two crews installed the signs once the cabinets were fabricated and the displays received.
The Sign Store received the go-ahead at the end of October. They surveyed each site then ordered the forty-two Vantage 10mm LED displays. Next they removed the existing cabinets over the course of two weeks.
The brick-column monuments were not one-size-fits-all, which meant different dimensions for the internally illuminated, polycarbonate-face cabinets featuring the school names. The Sign Store fabricated these cabinets using aluminum extrusion and aluminum angle then populated their interiors with LEDs from Principal LED. "The skin of each cabinet was black aluminum," says Lewis. (Note: A couple of the cabinets-displays were installed onto freestanding mini-pylon posts.)
The digital signs arrived at The Sign Store's 17,000-square-foot facility in two shipments. All the digital signs were the same size except for the slightly larger main office sign.
"Forsyth County had a particular order they wanted us to use for installation, and Vantage shipped the signs in the order we needed them," says Lewis. "We started on the schools from the first shipment and had the second shipment a week later."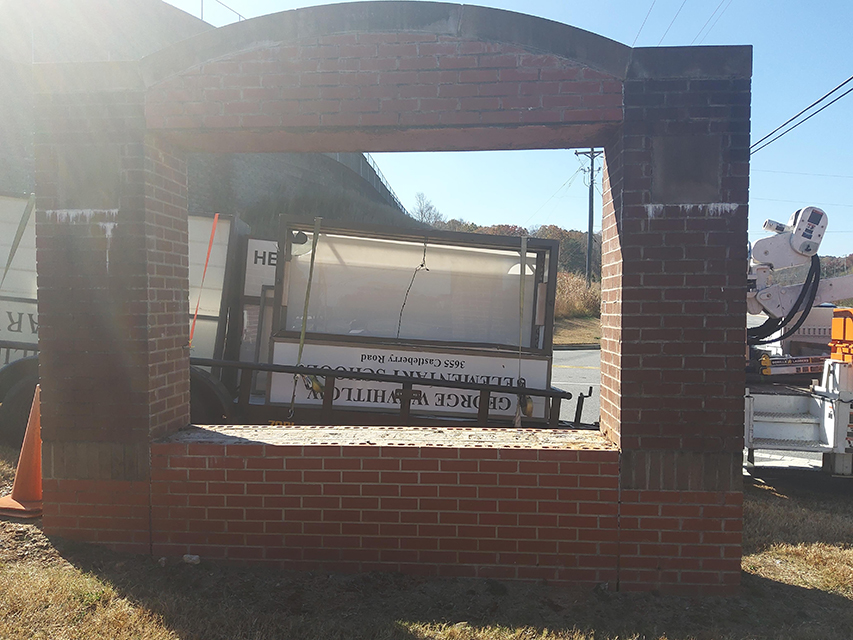 The Sign Store loaded the cabinets and digital displays onto their flatbed trailers in the order which they were to be installed then drove them out to the school property.
They custom built support frames and installed them in the vacant monument space. These were crafted using an aluminum angle and a perforated aluminum face that allows vented air circulation for the LED technologies. They also covered any gaps around the digital sign.
Due to the weight of the digital displays, The Sign Store install crews used their bucket trucks to lift and guide the signage into place. The installers braced the signs to the brick columns with custom brackets made to fit each different monument sign.
"Our installers averaged installing two to three schools per day per team. As they finished each school, they immediately began the next one on the list," says Lewis. "We kept each school notified of the day we planned to install their sign."
Each school was set up with cellular communications and an auto dimmer per zoning regulations.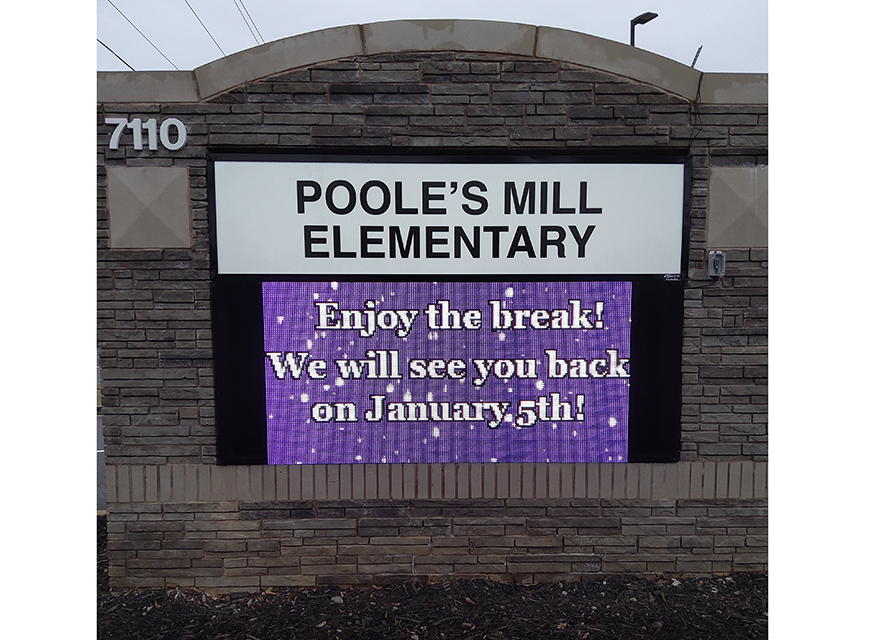 An important component of the Forsyth County RFP was that each school had to receive proper onsite training on the software.
Once each sign was installed, The Sign Store scheduled on-site training with school staff as soon as possible. Nate Johnson trained an average of two schools per day.
Vantage LED signs use easy-to-operate SM Infinity cloud software, which has a design program (Doodle) and scheduling program that accepts any third-party design software and enables automated alerts (weather, public safety, and amber/silver alerts) integrated directly with IPAWS, a federal system managed by FEMA.
"The software has permission-based users. We set up the schools so they could all design and schedule graphics for their [campus] and the Board of Education office could also control the signs in an emergency," says Lewis. "Having this dual control was a great selling feature in our bid submission."
Lewis says that one big advantage offering digital signage is that these technologies are wanted by all types of businesses—not only schools but also churches, offices, retail centers, etc. Even better is that each digital sign they install typically leads to another sale afterwards.
In fact, the textbook ability of The Sign Store to turn this display project around quickly and professionally has led to letters of recommendation from the State of Georgia as well as further signage jobs with several other school systems.