YESCO, the 103-year-old Salt Lake City, Utah-based company that's known for creating, repairing, and maintaining internationally recognizable signs,  recently completed the fabrication and installation of four new gateway pylon signs and thirty-three light pillars on the main campus of Weber State University in Ogden, Utah.
This particular project was part of campus master plan improvements intended to not only improve the university's on-premise signage but also ensure that those in the surrounding community traveling down the street would have no problems finding the university and its entrances.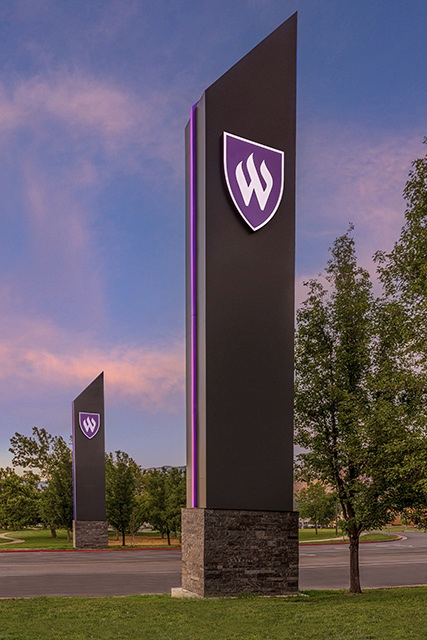 The fifty-five-foot-tall pylon signs bookend the north and south entrances to the Weber State University campus along Harrison Boulevard. Meanwhile the light pillars line Harrison Boulevard between the two entrances.
All told, this academic project totaled more than 4,000 man-hours for YESCO, took place over a 28-week-long period, and included the addition of 3,800 white LEDs.
Made from aluminum and steel, each of the "shark fin" pylons were cut to its final angular shape using a CNC machine.
They feature white LED light with purple vinyl overlay that borders a giant Gothic-style "W" inside a purple shield (the traditional Weber State University logo).
YESCO utilized their CNC router to cut the "W" shape out of the face of the sign (which was itself constructed out of a flexible material).
They then welded the "W"-logo return directly to the obelisk pylon sign.
The pylons are attached to rock bases that were also created by YESCO. The company built a custom-made metal frame then applied plywood to it. They then attached the rock pieces to the plywood. A center pole goes all the way through the pylon sign, and YESCO welded these sections to the pole.
Additional white LED light components border the top of each pylon, encased in vinyl to make it appear purple at night.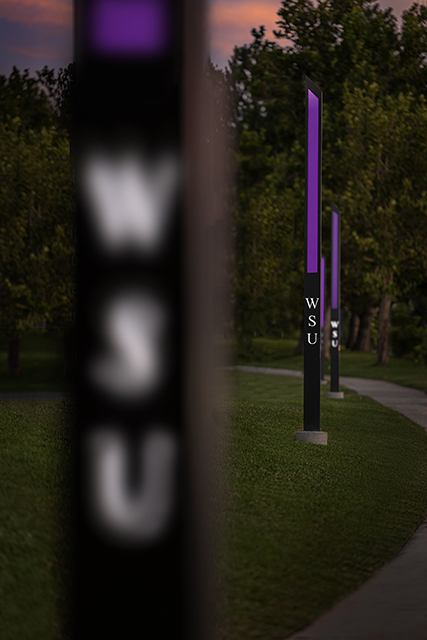 The light pillars illuminate the walkways along the Weber State University frontage. They have a white LED section that lights up purple at night as well.
A separate white LED section illuminates the WSU letters.
The fabrication and installation of the pylon signs and pillars followed the original design that was produced by VCBO, an architectural firm based in Salt Lake City and St. George, Utah.
"This project will welcome students, families, and visitors to Weber State University with subtle-yet-beautiful signage depicting school colors and the inimitable school font," said Matt Wren, senior account executive at YESCO. "In doing so, we have provided another client with an opportunity to enhance the visibility of their brand with distinctive visual flair."