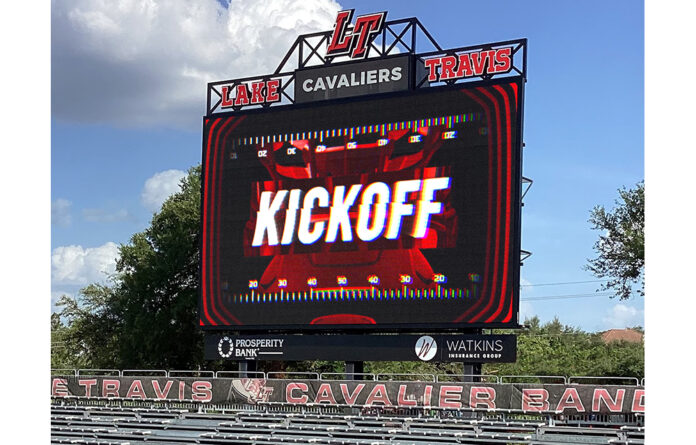 Lake Travis High School in Austin, Texas, the only high school to win five consecutive state football titles in Texas, installed a massive 24-by-40-foot video scoreboard manufactured by Watchfire at Cavalier Stadium, delivering a professional team experience for athletes, students, and fans.
The new 16mm videoboard replaced a smaller, less functional combination videoboard/analog scoreboard in the end zone of the 8,000-seat stadium.
"We felt that a new video scoreboard would give fans a more exciting game experience and would allow us to better highlight our athletes and our supporters in the community," said Michael Drinkwater, assistant athletic director at Lake Travis Independent School District. "We did our research and selected Watchfire because the company has a proven track record with projects like Fremont Street Experience in Las Vegas."
Drinkwater's staff designs a new scoreboard for every game to accommodate different sports and to brand Lake Travis and its opponents. Cavalier Stadium is used for football and men's and women's soccer.
The high-definition video scoreboard allows the high school to showcase clear videos, photos, and animations to excite fans and recognize sponsors. During football pre-game, the board is used to broadcast video of the team running out of the tunnel, run NFL-like player profile videos, and involve fans in a pre-game field goal challenge. During the game, plays are broadcast to the videoboard using five different cameras as well as a drone.
"It's the closest thing to an ESPN college atmosphere that you can find at this level," said Drinkwater.
Cameras are also used to rev up the crowd with sideline footage, a dance cam, a smile cam, and a half-time student sing-along. Music and other audio runs between snaps, and there are forty-five different Lake Travis logo graphics and animations that keep fans engaged.
Students in the school's Broadcast Department create content and operate the board, providing valuable career experience.
The high school videoboard was paid for through sponsorships from advertisers, who receive thirty-second commercials during the games. "Over the years, sponsorship dollars have gone into an account, which provided the funds for the new board," said Drinkwater, who notes that the new videoboard provides more flexibility for additional sponsors.
The new board is also used for events including graduation and for signing ceremonies for collegiate sports scholarships featuring graphics showcasing the athlete's accomplishments, action shots, and highlight videos.
"This is more than a scoreboard; it's a fan experience system that supports Lake Travis's proud sports legacy," said Jeff Morgan, national sales director for Sports. "The passion for high school football in Texas cannot be denied, and that's reflected in the technology Lake Travis chose. Watchfire is honored to be part of that."
—Press Release