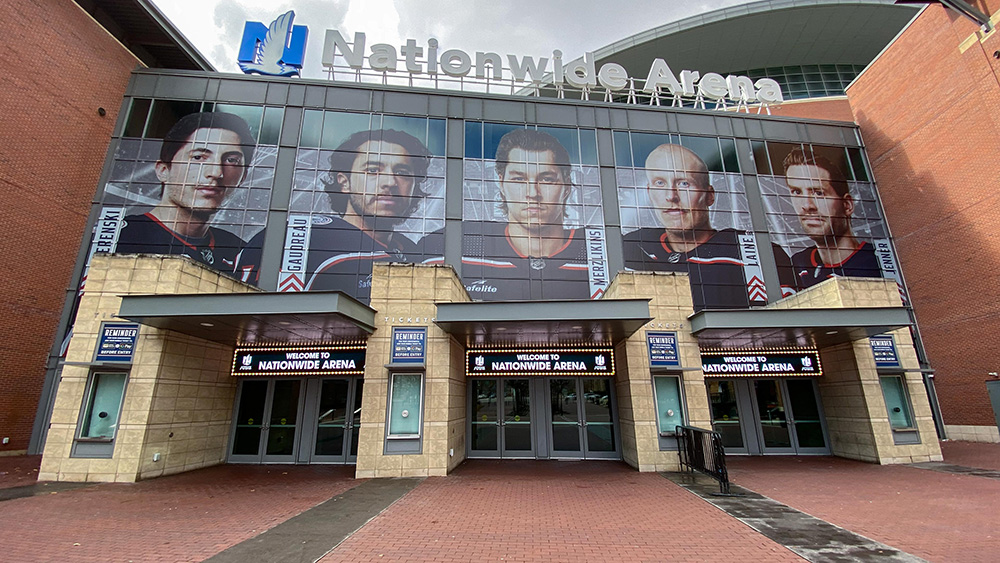 Nationwide Arena, home to the NHL's Columbus Blue Jackets, continued a digital signage upgrade, recently adding more than fifty LED displays throughout the venue and enhancing the visitor experience. All new video technology was provided by SNA Displays.
"Nationwide Arena, host to world-class events since 2000, is in need of major renovations, and the digital displays that SNA Displays installed helps provide a more modern-looking venue to our guests and players alike," said Derek Smith, general manager for Nationwide Arena. "Having all digital assets within the bowl and above our entry doors contributes to an enhanced guest experience that is common in new arenas. Our team tunnel is the best in sports and allows us greater flexibility with messaging and content.
"We are extremely happy with the process in working with SNA on design along with AJP and OSPORTS, and the end result is the collaborative effort of a great team on this important project."
As part of the enhancements, SNA Displays retrofitted dozens of static signs with BOLD™ Interior and BRILLIANT™ Interior video displays throughout the arena's bowl.
The program also included new LED signage for various internal rooms and corridors throughout the arena, as well as several EMPIRE™ Exterior LED displays at the venue's east and west entrances.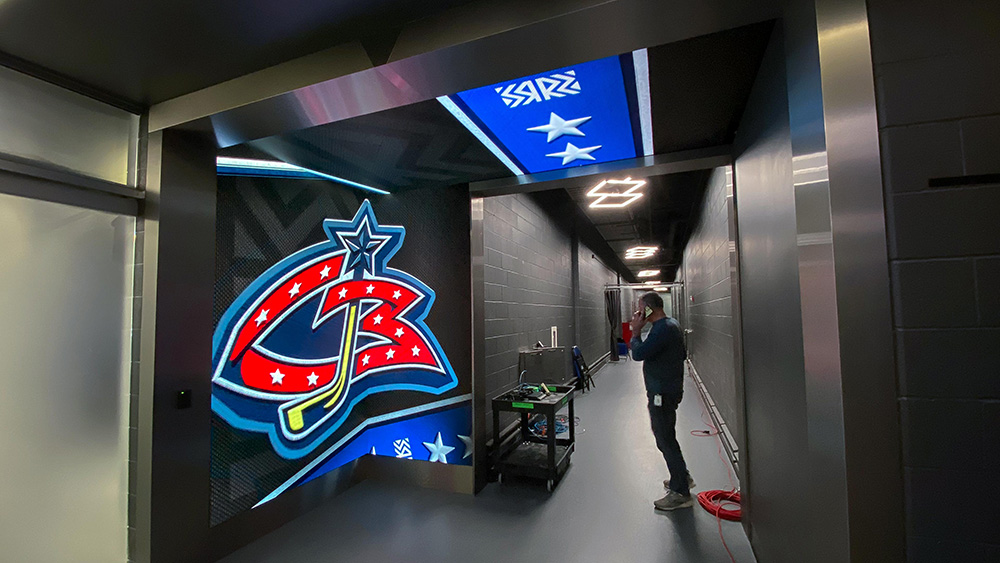 Owner-representative Anthony James Partners (AJP) provided consultation services during each phase of the project, selecting SNA Displays to provide the LED display systems.
"The recent technology upgrades to Nationwide Arena have been transformative," said David Watroba, AJP's managing director. "The new LED signage looks great, ups the excitement, and has created additional advertising and sponsorship opportunities.
"At the same time, the new LED is helping on a functional level, with assets like fine-pitch exterior digital signage effectively directing fans to proper queuing lines as they enter the facility. It was a pleasure for us to work with both SNA Displays and the Columbus Blue Jackets on another great project."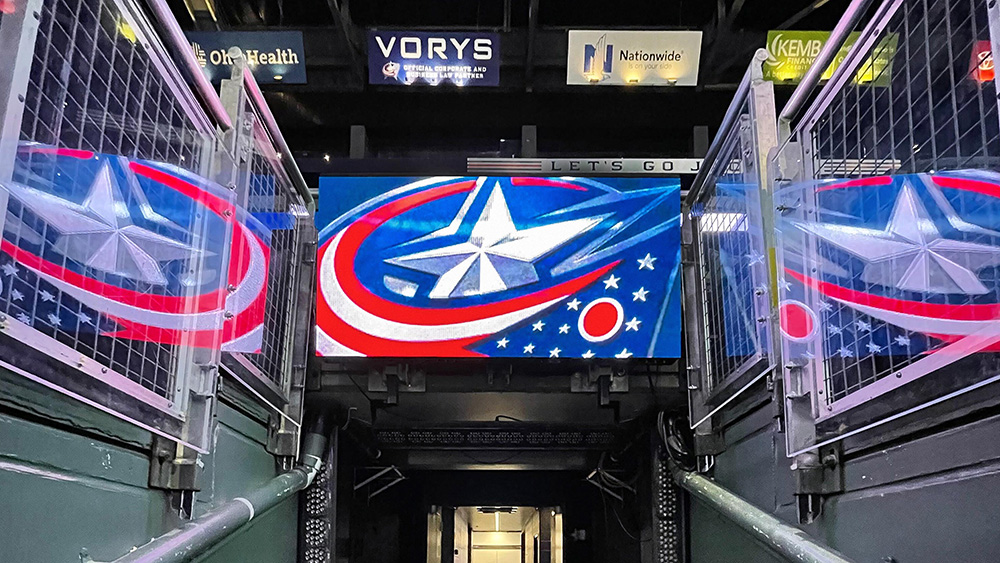 One feature of the refresh is a custom, three-faced display known as the "waterfall." The display system is located in the home player tunnel and includes two nine-foot-tall screens that meet at a corner, joining an eleven-foot ceiling display that extends across the hall, making the custom setup ideal for 3D and anamorphic creative content.
Other highlights include removable displays for both player tunnels where players exit the ice, as well as a wall-mounted, slim-profile LED screen used as a backdrop for press briefings.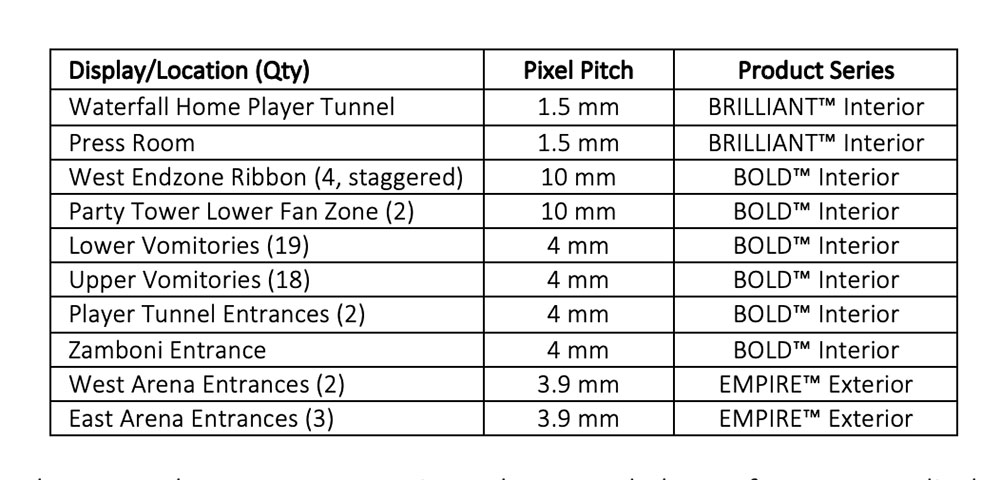 "Coordinating specifications and logistics for dozens of LED assets of various sizes and pitches was a massive undertaking," said Mikell Senger, a senior project manager for SNA Displays. "I'm proud of the work our team accomplished. Nationwide Arena has really done a nice job of upgrading the digital signage experience for fans, players, and staff. This is a great venue."
The new enhancements constitute the second phase of recent LED display upgrades for Nationwide Arena.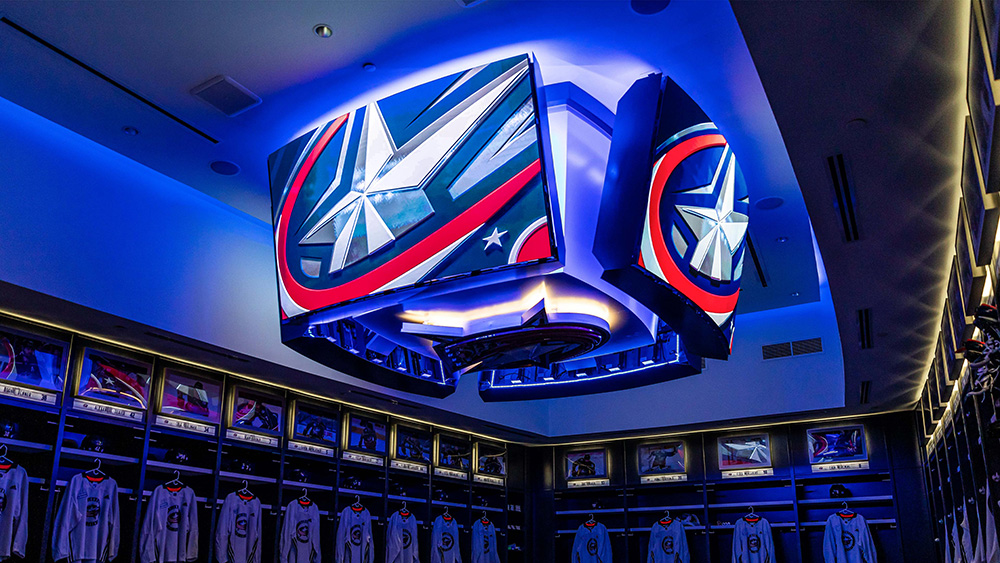 In 2021, SNA Displays built and installed a cutting-edge mini LED center hung in the Columbus Blue Jackets' player locker room as part of a major renovation also designed by Anthony James Partners.
American Interstate Signcrafters and SoundCom provided installation services, and ~sedna provided a new content management system and media server for the refresh.
—Press Release