Watchfire Signs, a leading manufacturer of outdoor LED signs, digital billboards, and video scoreboards, will introduce its series of all-white LED Price Watcher gas signs designed to provide exceptional clarity and readability in sunny conditions, at the NACS Show 2018,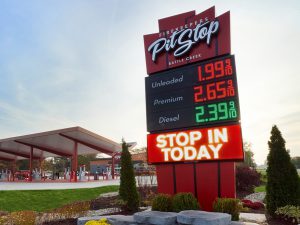 October 8-10 at the Las Vegas Convention Center.
Watchfire's white LED Price Watcher gas signs are available in 8, 12, 18 and 24 inch character sizes, and give C-Store owners more choices to match their corporate branding and differentiate between a variety of fuel options.
Watchfire Signs will showcase the white 8 inch Price Watcher sign at NACS booth #7202, where attendees can register for a chance to win a Fitbit Charge 2 Activity Tracker, and can see demonstrations on how to update gas prices in seconds.
NACS attendees also can see the white 8 inch Price Watcher sign in the Cool New Products Preview Room, where they can cast a vote for the best new product. The Price Watcher 8 inch model delivers a compact option for displaying multiple gas prices in small spaces. Its plug-and-play design and front ventilation makes installation or retrofit upgrades quick, easy and affordable. The built-in ventilation system also boosts energy efficiency and lengthens LED life.
All Watchfire Price Watcher signs offer a bright fuel price display that can be changed safely, day or night. C-stores can advertise diesel, unleaded, E-85, cash or credit gas prices with the touch of a button. An optional point-of-sale (POS) capability lets operators instantly sync signs with in-store pricing.
Watchfire will also display its 8mm high-resolution outdoor sign, which is ideal for locations with significant pedestrian traffic, a nearby bus stop or slow-moving street traffic. These displays feature a surface mount (SMD) LED package containing red, green and blue diodes under a single lens, which produces exceptional resolution for crisp, vivid content and wide viewing angles.
All Watchfire products feature fully-encapsulated modules that seal out moisture, dirt and contaminants. Watchfire's module design is proven to last longer and perform better after years in the field.
A free guide on how C-store owners can use digital signage to grow sales is available for download.