SloanLED, leaders in light technology for over 60 years, introduces the newest addition to its value line of channel letter lighting products with the launch of VL4 Super HO (High Output). A low-cost, 24 VDC module, VL4 Super HO delivers 233 lumens per module for bright, uniform illumination in large, deep channel letters, light boxes, and cabinet signs, 5-12+ inches (125-305+ mm) in depth.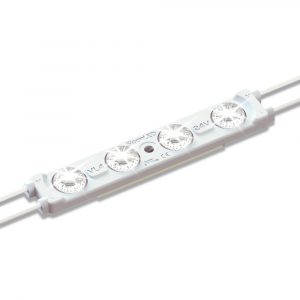 VL4 Super HO is available in 6500 K and is one of SloanLED's brightest and most efficient modules at over 164 lumens per watt. It features advanced optics for an ultra-wide 160° radiation pattern, a lifetime rating of over 54,000 hours, and innovative perforated continuous release liners, that reduce installation time by 30%.
"VL4 Super HO delivers on both value and performance," said Barry Blythe, Director of Sign Product Solutions at SloanLED. "With the ability to run up to 60 modules on a single 100W 24V driver, VL4 Super HO delivers an amazing 13,980 lumens per 100W power supply. Thanks to our advanced optics and industry-leading efficiency, the same 60 modules and single power supply can evenly illuminate over 90 ft2 (8.5 m2) of signage in a 7-8 inch (175-200 mm) deep application."
The VL4 line of everyday channel letter lighting products is available in Standard (White [7200 K, 6500 K], Red, Green, Blue); Mini (6500 K, 5000 K, 3000 K); High Output (6500 K); and new Super High Output (6500 K).
SloanLED offers three tiers of channel letter lighting solutions with Value (VL4), Performance (SloanLED Prism), and Performance+ (SloanLED Prism24) Series products delivering significant energy and maintenance cost savings, easy installation, faster ROI, and exceptional performance with consistent brightness and uniformity for every application and price point.