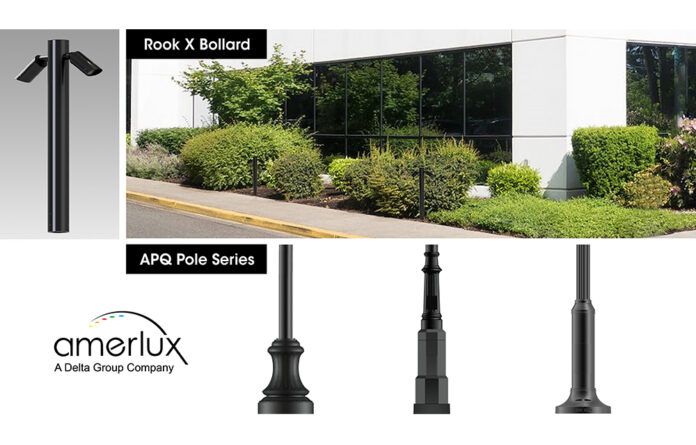 Amerlux, an award-winning design-and-manufacture lighting company, announces the expansion of two premier outdoor lighting collections, the Rook X and APQ Pole series. These product additions—a bollard for the Rook X and three decorative pole base options for the APQ pole family—give architects and lighting designers more creative avenues to craft outdoor spaces that beautifully integrate form, function and aesthetics.
The new Rook X Bollard brings a new dimension to the adjustable lighting landscape. By enabling the attachment of up to four Rook X adjustable accents onto a single bollard, this collection delivers unique versatility in illuminating paths and other well-trafficked outdoor areas where a low-level shielded source is desired.
Several heights, fixture configurations and a choice of a direct burial or mounting plate installation are available. Optical accessories, including beam shaping films and a hexcell louver, can be configured at the time of order and changed in the field if needed.
Meanwhile three new decorative options have been added to the APQ Pole family: APQ201, APQ330, and APQ 510, each characterized by distinct design features but unified by their quality and suitability for commercial, municipal and utility environments.
The aluminum poles are robust and lightweight and offer a six-week lead time, simplifying the ordering process for projects on tight schedules.
With twelve decorative styles available for anchor bolt mounting or direct embedding, the APQ Pole collection allows for quick fulfillment to the site without customization.
"These additions to the Rook X and APQ Pole collections represent our continued commitment to meeting the evolving needs of architects and lighting designers," said Bill Plageman, vice president of Marketing at Amerlux. "With these expansions, we're not just offering more options—we're providing tailored solutions to the specific challenges our clients face, like integrating seamless designs between indoor and outdoor spaces and ensuring a swift and reliable installation process.
"They now have an expanded selection of choices to achieve their design vision, whether that involves accentuating certain architectural elements or crafting a particular outdoor ambiance."
The Rook X Bollard extends the family heritage of providing architectural solutions for seamless indoor-outdoor architectural integration.
The collection includes adjustable accents, wall mounts, pendants, and surface mounts—all featuring an integrated driver for simple installation and reliable performance. Customizable options, including decorative glass rings, multiple beam choices and varying aperture sizes, are available.
For durability and longevity in upward-facing applications, the Rook X Bollard features a flush lens and sealed optical chamber that prevents puddles and other water deposits. The knuckle can also be adjusted by more than 180 degrees for precise lighting control.
—Press Release