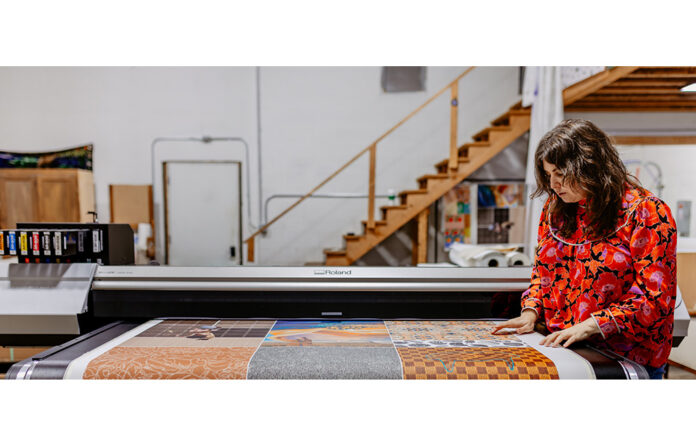 Wide format digital imaging leader Roland DGA announces its partnership with Western Sensibility—an art-driven surface design and digital printing studio—to further introduce digital printing technology to the interior design and architecture industries.
In addition to generating a greater awareness of advanced Roland DG digital printing technologies within this space, the partnership will allow both companies to collaborate on product solutions, media offerings, and educational content.
Founded in 2021 by Kathryn Sanders and Leana Becker, Western Sensibility specializes in the design and production of sustainable textiles and wallcoverings for hospitality, commercial, and residential design and architectural projects.
Over the past three years, the studio has experienced rapid growth and hopes to further expand its reach and creative capabilities by partnering with Roland DGA.
"We're proud to partner with such a forward-thinking company that honors the artist's perspective as much as we do," said Kathryn Sanders. "We're building something special with Roland DGA."
While Western Sensibility has a long-standing relationship with Roland DGA, this new partnership will enable the studio to take its operation to an even higher level.
Working beyond peel-and-stick substrates, Western Sensibility has developed luxury textile-based wallcoverings built for longevity and, together with Roland DGA, can offer fresh and fully tested solutions to the interior design community.
At present, Western Sensibility relies on a state-of-the-art Roland DG belt-driven hybrid UV printer and roll-to-roll UV printer to produce its high-end wallcoverings and architectural elements, which feature stunning designs created through their collaboration with over a dozen contemporary artists.
The partnership will also give the studio access to additional innovative technologies, such as the unique textured wallcovering production methods offered by the newly formed Roland DG Group company, DG DIMENSE.
"As a studio dedicated to experimentation, Roland DGA's printers give us an edge," says Sanders. "We've always been amazed by Roland DG technology and are thrilled to have this new opportunity to innovate while providing consistent quality to our clients."
Roland DGA is also excited about the partnership with Western Sensibility.
"We are really looking forward to the new opportunities made possible by our expanded relationship," said Roland DGA Vice President of Marketing and Customer Development Dan Wilson. "Over a relatively short period of time, this talented studio has built a name for itself within the interior design sector, as well as significant customer demand for their design and production services.
"This partnership will increase interest in digital printing for interior design and architectural applications using our products, while opening up new creative possibilities for Western Sensibility and their clients."
—Press Release