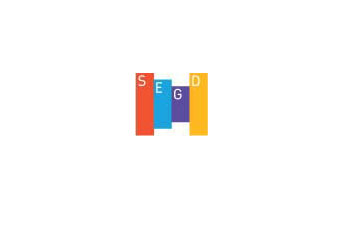 Projects ranging from a multi‐million dollar, high‐tech world exposition pavilion to a low-budget, supergraphics paint job at a middle school are top winners in the 2011 SEGD Design Awards, the annual program honoring the best in communication design for the built environment.
The dramatic range of project types, budgets, locations, and clients represented in the 2011 program illustrates the
impact that environmental graphic design has on the built world—and how EGD can impact the way people perceive and use public spaces, says John Lutz, chair of the 2011 SEGD Design Awards jury.
"In a field of more than 450 excellent entries, the Design Awards program showed us how far the reach of EGD has
extended," says Lutz, principal of Selbert Perkins Design. "In addition to projects from expected venues—museums, sports facilities, corporate environments, and hospitals—we saw innovative graphics for parking garages, parks, schools, and even churches."
The winning projects were not only highly functional as signage, wayfinding, or exhibition design systems, but were
often fully integrated into the environment, adds Lutz. "The jury gravitated toward projects that used the entire
environment to communicate. It wasn't enough to be a functional object in space; we recognized projects that
found innovative ways to activate the environment."
The 28 winning projects represent a diverse, international array of work including the technology‐rich Shanghai
World Exposition pavilion, the MAXXI National Museum in Rome, a sculpture park installation in Labin, Croatia, and
innovative parking garage graphics in New York. For the third year in a row, the SEGD Design Awards received a
record‐breaking number of international entries.
The 2011 program was juried by a multidisciplinary team representing architecture, environmental and experience
design, exhibition design, interaction design, graphic design, and retail and healthcare environment planning and
design. In addition to Lutz, the jurors included:
• Tim Fendley, principal of Applied Information Group (London)
• Steve Henri, director of design and development for The Taubman Company (Bloomfield Hills, Mich.)
• Edwin L. Hofmann, associate vice president of design for Limited Brands (New York)
• Kate Keating, principal of Kate Keating Associates (San Francisco)
• Sarah Kirchoff, 2010 SEGD Design Awards student winner (Rochester, N.Y.)
• Douglas Morris, principal of Poulin+Morris (New York)
• Robert Probst, dean of the College of Design, Architecture, Art, and Planning at the University of Cincinnati
The jury selected seven Honor, 19 Merit, and two Jury awards. The winners were recognized during a June 2 presentation and luncheon during SEGD's 2011 Conference+Expo+Awards, June 1‐4 in Montreal. For more information on the award‐winning projects, including photos, project descriptions, and jury comments, visit the SEGD Design Awards archive at www.segd.org/design‐awards/index.html or contact [email protected].
2011 SEGD Honor Awards
Dream Cube: 2010 World Expo Shanghai Corporate Pavilion exhibition and environment design (Shanghai), by ESI Design
Forgotten Cities Hiking Trail signage (Aleppo, Syria), by PenguinCube SAL
Macquarie Bank Headquarters signage and graphics (Sydney, Australia), by EGG Office
MAXXI National Museum of XXI Century Arts signage (Rome, Italy), by ma:design SRL
SKIN at the Pavilion of Knowledge (Lisbon, Portugal), by P‐06 Atelier and JLCG Architects
Urban Tales Shadow Typography (conceptual/Wellington, New Zealand), by Katie Bevin
White Road: Waiting for the Rain Installation at Dubrova Sculpture Park (Labin, Croatia), by Studio Rašić
2011 SEGD Merit Awards
Achievement First Endeavor Middle School environmental graphics (Brooklyn, N.Y.), by Pentagram
ASICS Australia environmental graphics (Sydney, Australia), by THERE Design
Branded Environment, Confidential Client (New York), by Ayers Saint Gross
Casa do Conto/House of Tales environmental graphics (Porto, Portugal), by R2 Design
Change Elevators, University of Washington (Seattle, Wash.), by University of Washington School of Art,
Division of Design
Chapel of the Holy Spirit environmental graphics, Sacred Heart University (Fairfield, Conn.), by Sasaki Associates
Design Museum Holon signage and wayfinding (Holon, Israel), by Adi Stern Design
Dis(Solve): The Japhet Creek Project environmental graphics and interpretives (Houston, Texas), by University
of Houston School of Art Graphic Communications Program and Gerald D. Hines College of Architecture
Eero Saarinen: Shaping the Future exhibit at the Museum of the City of New York (New York), by Cooper Joseph
Studio
First National Bank, Metro Crossing Branch environmental graphics (Council Bluffs, Iowa), by RDG Planning & Design
IDSA Annual Meeting environmental graphics (Portland, Ore.), by Ziba Design
Palmetto Health Children's Hospital wayfinding and graphics (Columbia, S.C.), by Stanley Beaman & Sears
Parking Garage graphics at 13‐17 East 54th Street (New York), by Pentagram
Science Storms exhibit at the Museum of Science and Industry Chicago (Chicago), by Evidence Design
Site Safety Installation graphics (New Zealand), by Studio Alexander
University of Technology, Sydney, environmental graphics (Sydney, Australia), by BrandCulture Communications
VeloCity bicycling master plan (Seattle, Wash.), by Erin Williams
Water Formula headquarters environmental graphics (Lisbon, Portugal) by P‐06 Atelier
X Exhibition graphics and identity (Shenzhen, China), by SenseTeam
2011 SEGD Jury Awards
Chanel Media Installation (New York), by Apologue
JWT Headquarters environmental graphics (New York), by EGG Office