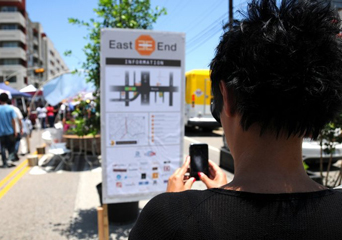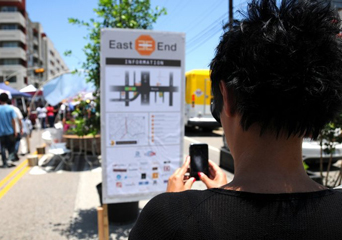 FocusEGD
served as a sponsor for the 72 Hour Better Boulevard Urban Challenge in June and had a chance to demonstrate how placemaking and environmental graphics can serve key roles in urban revitalization. The event's goal was to turn the Gateway Arts District into a pedestrian-friendly, active space.
Placemaking is a design practice for connecting community members with a public space that encourages participation. Features such as gateways, murals, and sculptures draw participants into open environments where they are encouraged to collaborate in creating a shared experience.
Placemaking relies on effective branding and graphic elements that reinforce a sense of place. With these principles in mind, FocusEGD developed a wayfinding system to encourage visitors to partake in the various opportunities for community interaction offered at the event. The design team also created prototypes for a cyclist-oriented wayfinding and bike lane signage system.
"The Better Block Project offered us the chance to use our expertise to enrich the community where we live," said Robbie Good, a FocusEGD designer and community activist in Dallas' Oak Cliff neighborhood. "We loved the opportunity to collaborate with other organizations, businesses, and citizens to create a really unique space."
Cities across the country have embraced urban revitalization as a means of developing historically underused communities. "Urban revitalization is an important element of community development and something FocusEGD will continue to be involved in both as a business and as good stewards of the urban environment," said Good.