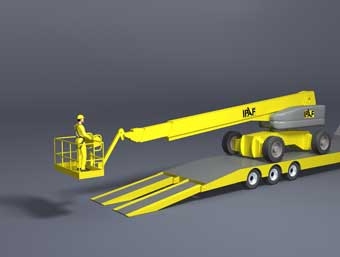 IPAF's stand at the bauma 2016 construction show (April 11 to 17 in Munich, Germany) will highlight the safe loading and unloading of mobile elevating work platforms (MEWPs, also known as aerial work platforms or AWPs) as an essential part of site operations. The IPAF stand N1115 in the outdoor area will demonstrate how to load and unload MEWPs safely, share good practice and findings from IPAF's accident reporting project, and provide a meeting point for members to network and discuss issues affecting the industry.
Almost a third of MEWP-related incidents reported by rental companies involve delivery drivers while loading and unloading machines. This is one of the trends identified from IPAF's accident reporting project and the Federation is working to make MEWP loading and unloading activities safe and effective.
The campaign highlights the importance of planning and management of the delivery and collection processes. It also clarifies the responsibilities of different parties (including end-users, contractors, rental companies, haulage companies and drivers) to communicate and cooperate to ensure the work is done safely and effectively.
"MEWPs are one of the safest tools to carry out temporary work at height, and IPAF wants to keep the industry safe by minimising the potential dangers associated with loading and unloading," said IPAF CEO Tim Whiteman. "The main causes of loading and unloading incidents have been traced to insecure loads and machines falling off between ramps. These risks can be prevented through proper training and management of the work."
IPAF has called on all its members exhibiting at bauma to observe safe loading and unloading practices in conformity with recommended guidelines. IPAF-approved training centers also offer a course on the loading and unloading of MEWPs, soon to be available in several languages.
The IPAF Stand Reception at bauma will be held on Wednesday, April 13th, from 17:00 to 19:00. All IPAF meetings around bauma will be listed at www.ipaf.org/events.