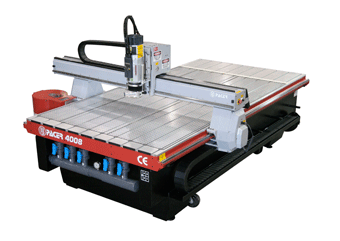 Available in a choice of three sizes (60-by-90, 60-by-120, and 82-by-120 inches) to meet different production requirements and the most popular sheet formats, the latest Pacer series machines from AXYZ International embody all of the attributes of earlier systems sold under the Pacer power brand in terms of strength of build, ease of use, quality of cut, and optimum reliability. They also represent an ideal upgrade path for owners of these systems now requiring a higher performance and higher productivity solution but at a very realistic price.
Key design features include a heavy-duty solid steel base and gantry with a substrate clearance capability of six inches (expandable up to eighteen inches), helical rack and pinion drive system with direct-drive servomotors and ball screw control on the Z-axis for smooth and backlash-free motion, and the latest seven-segment A2MC machine controller with ethernet connectivity and 4Gb onboard memory. These are supplemented with a wide range of optional additional production tools, including a seven- or twenty-one-station automatic tool change system, twin or triple cutting heads, the latest AXYZ AVS Camera Registration System, and a misting unit.
The routers will effectively cut and profile at a high feed rates virtually all materials commonly in use in the general woodworking, plastics, sign making, furniture production, joinery, and panel processing sectors. These include all non-ferrous metals, plastics and their derivatives, solid and particle wood substrates, aluminum composite materials, and laminates.
Full on-site training and after-sales technical support are provided by the AXYZ International team of technical engineers.
For further information, call 800/361-3408 or visit www.axyz.com.