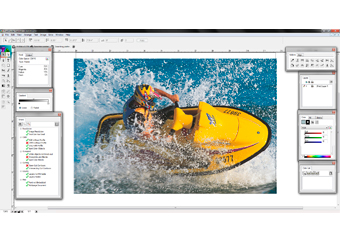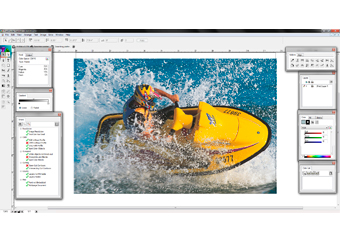 SA International (SAi), a leading provider of solutions for the professional signmaking, large format digital printing and CAD/CAM for CNC machining industries, has announced the introduction of its new PixelBlaster™ print-to-finish production software.
PixelBlaster is a genuine end-to-end system that covers pre-flight to production. Modular and scalable, the PDF-based software is a single solution delivering a customer-selected suite of workflow applications that drive an operation's entire large format print hardware line-up.
PixelBlaster has been designed to reduce bottlenecks, streamline workflows and increase profitability, while its capability to standardize printing ensures predictable and consistent print quality and color.
Available now, PixelBlaster offers a complete solution to guide jobs through every stage of the production process – from file verification, job preparation, color management, RIP to analog or digital (CTS to screen), output check and finally printing and automated finishing.
Using a modular approach, PixelBlaster can be easily tailored and scaled to fit users' needs in mixed Macintosh® or Windows® environments. A key feature is its ability to standardize colors based on industry accepted profiles, including GRACoL, ISO, Euroscale and FOGRA.
The solution is first of its kind to deliver standardized printing to the large format sector. This means that in multi-printing device environments, PixelBlaster ensures each printer automatically generates exactly the same predictable and reproducible output quality and color – regardless of the brand of hardware, the type of inks or the substrates used.
PixelBlaster's advanced color engine allows easy integration of proofing into the production process. By accurately predicting the final output, PixelBlaster offers a cost effective way of eliminating errors and significantly reducing media and ink wastage.
Additionally, PixelBlaster features an easy-to-use Variable Data Printing option to personalize text, graphics and images. Based on a template, users can quickly apply variables and load text and images into placeholders to mass produce customized prints.
"While other RIP's focus heavily on print preparation, PixelBlaster goes more 'upstream' by providing a front-end comprising all job preparation features to drive production," explains Gudrun Bonte, Product Manager at SAi.
"At the same time, PixelBlaster goes more downstream, providing all job finishing items from the front end and by supplying a separate software to drive the printers. In doing so, we believe that PixelBlaster delivers a wider and more tangible offering than other RIP solutions, combined with a more improved and complete toolset," she adds.
In addition to meeting the needs of users in super-wide high volume print production environments, PixelBlaster has also been designed for the increasingly important specialty printing sector, which embraces substrates such as textiles, glass and ceramics. To ensure color predictability when not using the CMYK process, PixelBlaster includes an N-Color support feature. This enables production of custom ink sets to ensure full spot colour profiling within the gamut provided by the selected inks.
Thanks to the PDF engine, PixelBlaster handles transparencies with ease and has no problem managing multiple file types. Unlike certain RIPs that struggle to faithfully process PDF files, PixelBlaster eradicates such issues. This prevents workflow being impacted by avoiding the need for users to rasterize files before printing to ensure proper translation of information.
PixelBlaster is already being tested by several sign and graphics businesses, including US-based, Signs by Tomorrow. According to Ryan Warner, Press Operator and Design Manager at the York, Pennsylvania, company, PixelBlaster delivers a multitude of benefits, not least of which is its capability of faithful PDF support.
"PixelBlaster basically allows us to RIP and print jobs from PDFs faster and at a higher quality, as well as cut them more accurately, than any other software I've used in the past," he says. "Not only that, PixelBlaster allows us to print the same file from the same computer on either or both printers, all while operating within the same color space. We can print one portion of a job on our solvent printer and the other on our UV printer and the colors are identical.
"For anyone looking to simplify their work flow, improve their print and cut quality, decrease production time or just make their day easier, Pixel Blaster is the way to go," he concludes.
PixelBlaster extends SAi's growing line of comprehensive, professional software solutions, which also include the Flexi™ and PhotoPrint™ family of products. Having obtained a license for the software, customers can register at a dedicated on line portal, where they can create and manage their personal profile page, as well as download the software and necessary profiles drivers and user manuals.