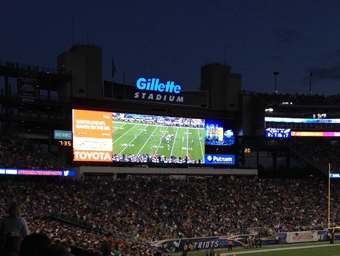 With a full regular season in the books, the New England Patriots are set to host a playoff game at Gillette Stadium in Foxborough, Massachusetts, a venue which showcases new freeform LED elements covering the "Gillette" lettering above the video displays at each end of the field from Daktronics (NASDAQ-DAKT) of Brookings, South Dakota. These two displays together create one of the largest freeform LED installations in a sports setting to use the puck-shaped technology.
The freeform LED elements that form the displays feature 35 millimeter line spacing to cover the Gillette logo, a space measuring 20 feet high-by-50 feet wide. These puck-shaped elements feature a compact design that creates a versatile product suitable for a variety of applications. In this case, they are used to bring lighting capabilities to a large, architectural logo that will integrate seamlessly with other LED displays throughout the venue.
This script identification display is a unique feature that will attract the attention of fans at every event and allows for more ambient effects and stadium branding opportunities.
"We are very excited to showcase this technology at Gillette Stadium, the first of its kind in a professional football venue," said Dave D'Amico, Daktronics sales representative. "We're proud to continue our partnership with the New England Patriots as this technology brings a new level of entertainment to the overall fan experience inside their stadium."
In addition to the freeform elements, Daktronics installed two additional SMD (Surface-Mount Device) video displays along Route 1 near Gillette Stadium. The SMD, or 3-in-1 LED package, allows for tighter pixel spacing to provide a high-resolution outdoor display option for clear vibrant imagery combined with wide-angle viewing. Each of these displays will measure 15 feet high-by-10 feet wide and each will feature 10 millimeter line spacing to provide additional event information and announcements.