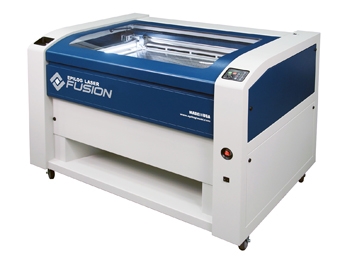 Epilog Laser, a leading producer of CO2 and fiber laser engraving, cutting and marking systems is excited to announce the addition of the Fusion 40 to the company's CO2 laser product line.
With a 40-by-28-inch (1016-by-711 mm) engraving table, the Fusion 40 offers laser operators a generous engraving table and wattage configurations up to 120. The design of the Fusion 40 was created to maximize engraving space, while maintaining the physical footprint of comparable laser systems with a smaller bed.
"The performance and features of the original Fusion 32 are so popular with customers, we decided to create a bigger system that offers users the same amazing results and benefits, and will allow them to increase throughput and production volumes," said Mike Dean, vice president of sales and marketing for Epilog Laser. "What's even better is that we're offering this impressive 40-by-28-inch table in the same physical frame work as other systems with smaller 36-by-24-inch beds, so operators are getting more room for engraving and cutting without taking up any extra space in their shops."
The Fusion 40 includes the same features as its predecessor, the Fusion 32, including the redesigned motion control system that allows for higher speed engraving and amazingly precise cutting quality.
Other features of the Fusion 40 include:
+ Intuitive joystick control that allows operators to move the table, fire the laser directly and more;
+ Comprehensive job management software that includes job-time estimator;
+ Industrial DC servo motors for lightning fast speeds;
+ Unparalleled chassis strength for increased durability and longevity; and
+ Drop-down front door for easy-access and convenient part loading.
For more information on the Fusion or FiberMark Fusion, visit www.epiloglaser.com/fusion_40.htm.