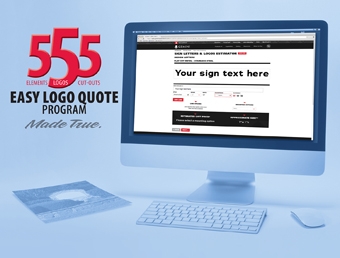 Gemini is pleased to announce its online letter and logo pricing configurator—the Sign Letter Estimator—has been enhanced to allow Gemini Authorized Resellers immediate, online, 24/7 access to pricing for Gemini's most popular dimensional letter and logo products. The easy-to-use Sign Letter Estimator guides users through available product options and produces a printable PDF document with product details Gemini Resellers have specified for their project for architectural submittals.
"We know our customers have a better opportunity to win a job if they are among the first to submit a quote," said Nichole Bell, Gemini Sales Supervisor. "The Sign Letter Estimator, integrated with Gemini's 555 Easy Logo pricing, provides our Authorized Resellers a quick and easy way to generate their Gemini pricing virtually any time to ensure their own bids get submitted in a timely manner."
The online Sign Letter Estimator provides an easy, self-help estimate-generating tool that is available any time, day or night. Users simply identify a Gemini dimensional product category and select their project's details, such as desired typeface style, material, finish and mounting method. From there, the tool generates a Gemini list price estimate that is branded with the Authorized Reseller's name. This estimate can then be saved, printed with or without the pricing, or submitted to Gemini as an order.
The enhanced Sign Letter Estimator leverages Gemini's 555 Easy Logo Quote Program pricing methodology. This instant pricing system, available for most flat cut logo products, allows Gemini Authorized Resellers to generate on-the-spot Gemini list pricing for custom flat cut metal or acrylic logos. The 555 Easy Logo Quote program pricing is good for any project containing up to five logo elements, up to five cut-outs, and up to five identical logos. For projects with six or more elements, cut-outs, or logos, users can click on the Request a Quote button for a special quote.
"Gemini is committed to providing its Authorized Resellers with valuable resources to make their jobs easier and more efficient," added Bell.
Gemini's Sign Letter Estimator along with the on-line Plaque Estimator, are both available for all Gemini Authorized Resellers on Gemini's Partner Portal.