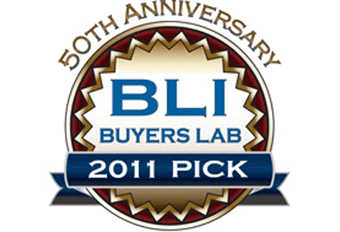 HP announces that two HP Designjet Printers and HP ePrint & Share received top honors from Business Equipment Research & Test Laboratories and Buyer's Laboratory Inc. (BLI), reflecting their overall ease of use, application versatility and output quality.
These honors include:
* An Exceptional Certified Five Star rating for the HP Designjet T2300 eMultifunction Printer (eMFP) from BERTL, citing its Web-enabled functionality and intuitive color touchscreen;
* An Outstanding Certified Four-and-a-half Star rating for the HP Designjet T7100 Printer from BERTL, noting its productivity features and ability to produce a range of applications;
* A Summer 2011 "Pick" award for "Outstanding Color Inkjet Wide-Format Multipurpose Printer" for the HP Designjet T7100 Printer from BLI due to its productivity, administrative utilities, and ease of use;
* A Summer 2011 "Pick" award for "Outstanding Color Inkjet Wide-Format MFP" for the HP Designjet T2300 eMFP from BLI, citing its collaborative capabilities for file sharing and printing, as well as overall print and copy quality; and
* An "Outstanding Achievement in Innovation" award for HP ePrint & Share from BLI, noting the tool's easy-to-use storage and sharing capabilities.
"With the first Web-connected device with scan, print and copy functionality and the new HP ePrint & Share platform, HP makes large-format printing easier, allowing architecture, engineering and construction professionals to spend more time creating and building," said Santiago Morera, vice president and general manager, Designjet Large-Format Solutions, HP. "The awards from BERTL and Buyers Lab demonstrate our ability to deliver a significantly lower total cost of ownership and improved collaboration and mobility to design professionals."
The color touchscreen HP Designjet T2300 eMFP provides page previews and the ability to scan sketches and hand annotated drawings in one click to create print-ready files shared directly through HP ePrint & Share. Available for download at www.hp.com/go/eprintandshare, HP ePrint & Share is a printing and sharing tool allowing designers in the architecture, engineering, and construction industry to easily locate and access large format plans on the cloud and to adjust page layouts, preview print pages and create print-ready files from a single screen.
The HP Designjet T7100 Printer is designed for central reprographic departments in enterprises and reproduction houses. It streamlines print production for customers needing to print in monochrome and color – from simple CAD drawings to high-quality presentations. With a competitively low total cost of ownership, the printer provides an alternative to devices that print only in monochrome or color and light-emitting diode technologies, which can be expensive to maintain.
More information about HP Designjet printing solutions is available at www.hp.com/go/designjet, on Facebook at www.facebook.com/HPdesigners, through the HP Graphic arts Twitter feed, and on YouTube at www.youtube.com/hpgraphicarts.