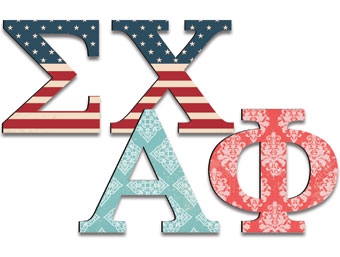 Johnson Plastics announces Love Letters, a new fully sublimatable and customizable décor and gift product line, perfect for the upcoming holiday season.
Love Letters provide limitless opportunities for creativity and personalization for the do-it-yourself decorating and gift market. The product line features the industry's first range of sublimatable letters, including two decorative type faces and special characters.
"We are very excited about Love Letters because we know it gives our customers a new and unique way to grow their business," said Mike Johnson, president of Johnson Plastics.
The finished letters and characters can be used to spell out monograms, acronyms, words and phrases to add a personalized accent to any room. The line also includes letters from the Greek alphabet (pictured), sure to be a hit on college campuses.
"Monograms and initials are a very popular home décor item right now, and this product line adds the potential to personalize these items. We expect this product to be very popular this holiday season," Johnson said.
The letters and characters are composed of a ¼-inch matte substrate specially designed for sublimation and are available in standard 8-inch and 12-inch character heights.