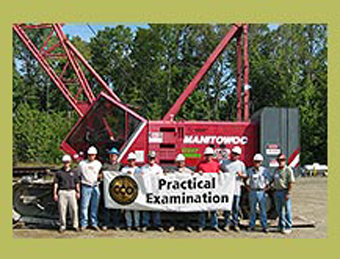 New candidates and existing certificants alike will be given an opportunity to take a wide variety of CCO written, practical, and recertification exams at CONEXPO/CON-AGG, to be held March 22-26 in Las Vegas, Nevada. For the first time, practical examiner accreditation workshops for nearly all CCO programs will also be conducted onsite before and after the exposition.
"CONEXPO/CON-AGG is delighted that the National Commission for the Certification of Crane Operators has elected to schedule its OSHA-recognized and ANSI-accredited crane operator and related certification examinations at the 2011 event," said Megan Tanel, vice president of exhibitions and events for the Association of Equipment Manufacturers (AEM), the organization that operates CONEXPO/CON-AGG. "This will provide an exceptional opportunity for crane operators and those who work around cranes to ensure that they are professionally certified to work in compliance with the new OSHA rules that came into effect this past summer."
Tanel also offered her congratulations to NCCCO on its celebration of its fifteenth anniversary of providing certification exams to the U.S. construction industry.
The once-every-three-years equipment showcase will feature over 2,500 exhibitors and is expected to draw over 140,000 attendees. "CONEXPO/CON-AGG provides an excellent opportunity for expo attendees to earn or renew their CCO certifications while attending one of the largest events of its kind in the world," noted NCCCO Executive Director Graham Brent.
In addition to NCCCO's main exhibit, CCO exam administrations, and practical examiner workshops, NCCCO will also participate in the Lift Safety Zone and the Construction Challenge, both of which promote safe practices on construction sites; they also illustrate the need for qualified personnel, which are now required by law under federal OSHA's new rules for cranes and derricks used in construction.
NCCCO's activities at CONEXPO/CON-AGG include:
* Main NCCCO Exhibit (GL-3000)—get information about all CCO certification programs and all of NCCCO's activities around the exposition;
* CCO written, practical, and recertification exam administrations—recertify or earn new CCO certification(s);
* Practical Examiner Accreditation workshops for most CCO programs—held before and after the main exposition;
* Lift Safety Zone (S-19722)—featuring demonstrations of how ground conditions can affect equipment's stability; and
* Construction Challenge—Twenty-four teams of finalists from high schools around the country compete for the grand prize.
A complete schedule of CCO certification testing and practical examiner workshops is available at www.nccco.org/news/documents/CalendarforParticipants.pdf.