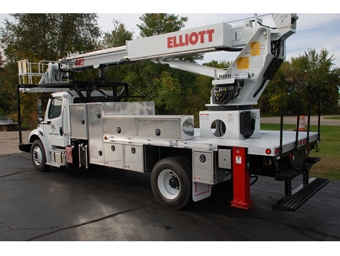 Elliott Equipment Company, in collaboration with dealer MIRK Inc., has developed a new lightweight aluminum body and toolbox package designed specifically for Elliott's material handling HiReach aerial work platforms. The body package and bed provides sign and lighting companies with a lighter vehicle on the road and increased rust-protection, boosting resale value and versatility.
The custom-built package includes a two-piece aluminum bed with an extruded grip surface. It can include a wide variety of underbody boxes, torch boxes, and lamp bins constructed of treadplate or smooth aluminum with locking doors. The complete aluminum bed and body package with six toolboxes weighs up to 60 percent less than a standard steel flatbed and toolbox setup.
During the past decade, truck weights have steadily increased due to emissions and other design changes, so the need for a lightweight tool and equipment storage package has become increasingly important. By utilizing Elliott's new aluminum body package, owners can benefit from lower chassis costs and less maintenance, while retaining excellent versatility and resale value.
Several sign and lighting companies have recently replaced existing steel beds on their existing Elliott sign cranes with this new package to resolve damage and boost performance on the road. Mirk's Joe Thompson states that, "An additional benefit of this package, is that it eliminates the need for paint touchup on the bed or boxes."
Elliott Equipment Company President Jim Glazer commented, "We are constantly looking for ways to help our customers work more safely, be more efficient and improve the return on their investments. We are very excited about this new offering as it will achieve all of these objectives."
The bed and body package can be fully customized to each user's unique requirements. Available options include tool trays, custom box sizes, bed cutouts for vertical boxes, and more.
Thompson states, "The toolbox package can be highly customized to fit user needs. Nothing on the market offers as much space and capacity on a single axle truck."
The package also includes new storage locations for the jib winch and downhaul ball, improving access to these components from ground level and maintaining clear bed space.
The aluminum bed and box package is available from all authorized Elliott Equipment dealers worldwide as an option on new units and also as an aftermarket modification. The new body package will be on display in the Elliott Equipment booth at the ISA Sign Expo in Las Vegas from April 9-11.