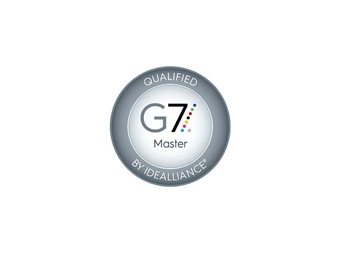 Orbus Exhibit & Display Group®, one of North America's leading trade suppliers of display, exhibit, and event solutions, is proud to announce that the company has been recertified to the IDEAlliance G7 Master Print Specification through June of 2016. With over twenty state-of-the-art printers, recently enhanced and expanded printing capabilities and the G7 certification, Orbus' display graphics production process provides customers with consistent, accurate color and high-quality finished products from both its Las Vegas, NV and Woodridge, IL facilities.
The company continuously makes additions and enhancements to its printing capabilities. In August, Orbus enhanced its print capabilities provided from its Las Vegas facility, which with the adoption of two new printers and two dye sublimation machines, is now able to print a wider range of graphics for popular product lines. Orbus Las Vegas now has the ability to print tent canopies, Xclaim™ fabric popup display graphics (printed
on Agility, a stretch fabric), and Vector Frame™ light box graphics (printed on Intensity, a backlit fabric).
The G7 IDEAlliance program is a not-for-profit industry group that is focused around guiding print production best practices, specifications and standards, worldwide. The program outlines standards for consistency and quality in proofing, brand color management, and print processes, standardizing visual similarities across all print processes. Following the G7 Master Print Specification when printing display graphics enables Orbus to reproduce a similar visual appearance across all printing types and substrates, from dye-sub to solvent.
"Continually achieving recertification to the IDEAlliance Master Print Specification provides us with the opportunity to constantly provide clients with the highest quality printed graphics and service," said Jaime Herand, Vice President of Graphics at Orbus. "Having the G7 certification allows Orbus to provide a wide range of high-quality and fast graphic services to our clients that are consistent across locations, devices, and product lines."
First certified in July of 2010, Orbus annually achieves recertification to the G7 specifications, working throughout the year to constantly improve the graphics printing process, and implement the Proof-to-Print process. This process, one of the evaluation markers for recertification, allows Orbus to constantly provide accurate color matching and print consistency across all print devices, systems and geographic regions, including the Woodridge and Las Vegas facilities.
In addition, Orbus has several G7 Professionals on the printing team, benefitting customers with a certified, valuable resource in ensuring that quality standards are met during the printing process.