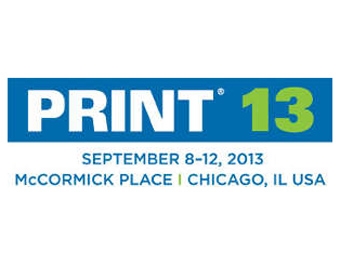 The PRINT 13 MUST SEE 'EMS program reached a new milestone this year drawing the largest number of entries in the history of the annual technology competition. All winning entries will be announced in early August, with the "Best of Category" winners to be revealed at the conclusion of the pre-show EXECUTIVE OUTLOOK conference
(which takes place Saturday, September 7, 2013, immediately prior to the September 8 opening of PRINT 13 and the co-located CPP EXPO).
Also to be announced at EXECUTIVE OUTLOOK will be the PRINT 13 Legacy Award for a previous MUST SEE 'EMS winner that has had the most lasting and profound impact on the graphic communications industry.
Additionally, competition organizers and judges responded to the ever-changing technology landscape with the creation of three new categories in which to judge this year's entries and a name change to update and better define another category.
Three "Finishing" categories have been combined into one "Postpress and In-Line Finishing" category. Two new categories have been split off from the "Prepress" category: they are "Color Management and Quality Control" and "Variable, Transactional and Multi-Channel." The name of the "Future Print" category has been updated to "The Future of Print: Technology Demonstrations."
"The strong participation by exhibitors in this year's MUST SEE 'EMS program, plus the new and revised categories necessary to best consider all of the innovative technologies, signals an early 'forecast' for attendees on the quantity and variety of unique new offerings they will find at this year's event," said Ralph Nappi, President of the Graphic Arts Show Company (GASC).
For complete information about the MUST SEE 'EMS program, visit www.mustseeems.com.
To register for the show, visit www.print2013.com.