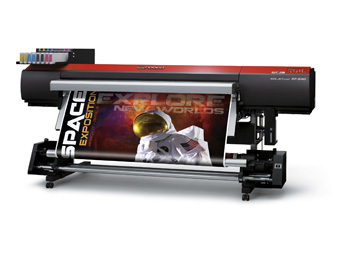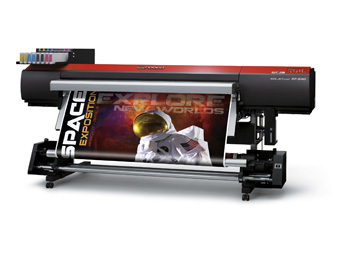 Roland's new SOLJET XF-640 sixty-four-inch printer takes large-format inkjet productivity to the highest level. This state-of-the-art printer incorporates two mirrored printheads, newly designed take-up and pinch roller systems, and other advanced features that enable it to deliver vibrant, detailed prints at speeds up to 1,098 square feet per hour. Roland DGA will unveil the XF-640 on April 4 at the ISA International Sign Expo in Las Vegas.
The XF-640 is uniquely engineered and constructed to maximize print speed and output without sacrificing image quality, making this next generation printer an ideal choice for high-volume shops. Based on more than fifteen years of Roland large-format printer innovation, it's capable of handling a wide range of applications, including indoor and outdoor banners, vehicle and fleet wraps, window graphics, posters, P-O-P, tradeshow graphics, backlit displays, and more.
The XF-640's mirrored print head configuration with dual CMYK allows brilliant, consistent color reproduction across the largest prints, even at top speed. Roland's Intelligent Pass Control precisely controls dot placement during passes for exceptional images with virtually no banding.
Printing performance is further enhanced by Roland's wide-gamut Eco-Sol MAX 2 inks, specially formulated to produce dense, rich color and stunning images on a wide variety of substrates.
Durable construction and specialized mechanical systems contribute to the XF-640's ability to create high quality prints faster than ever before. The strength and rigidity of this printer's rail and frame ensure smooth, precise printhead movement and maximum ink droplet accuracy, while sixteen pinch rollers and a new grit roller architecture provide secure, trouble-free media feeding during long, unattended production runs.
Roland has also equipped the XF-640 with a new take-up system built to expedite production and increase stability. Two end cups, firmly fixed on the take-up's two main support bars, prevent distortion during printing by keeping the media holder in the correct position at all times.
The XF-640 boasts a new heating system as well, specially designed to dry prints quickly and evenly across the entire media width.
According to Eric Zimmerman, Roland DGA's color product manager, the XF-640 offers advantages and capabilities that put this printer in a class by itself. "With the XF-640, digital printing professionals can have it all—rocket-fast speed, superior imaging, unsurpassed reliability, and world-class Roland service and support," he said. "It's designed to be the backbone of any busy production environment."
Roland's XF-640 has also been designed for ease of use and simple maintenance. Users will appreciate the front-loading ink cartridge slots, as well as the conveniently located media loading levers at the front and back of the printer. For easy cleaning, there's also a new latched maintenance cover that opens at the touch of a button.
The XF-640 comes complete with Version 4.9 of Roland's VersaWorks RIP software, which includes advanced productivity tools for optimizing image quality and workflow, including built-in PANTONE® spot color libraries. This feature allows the user to automatically convert a PANTONE spot color in the design file to a CMYK value for accurate reproduction on the XF-640 without reopening the source file. VersaWorks can operate up to four Roland devices and also includes a Predictive Ink Calculator that estimates the amount of ink needed for each job so users can plan accordingly.
Roland's OnSupport system facilitates unattended printing with the XF-640 by sending text or email messages to a remote computer or smart phone when a print job is completed or ink is running low. OnSupport also allows for quick and easy downloading of firmware updates and important product information.
Roland DGA backs up every XF-640 printer with an unmatched Two-Year Trouble-Free Gold Edition manufacturer's warranty, which includes two years of coverage, plus two free preventative maintenance visits at months ten and twenty by a Roland authorized dealer.
Roland XF-640 Printers are available now for shipment to dealers.
To learn more about the new SOLJET XF-640 large format inkjet printer or Roland's complete lineup of quality digital printing equipment, call 800/542-2307, or visit www.rolanddga.com.