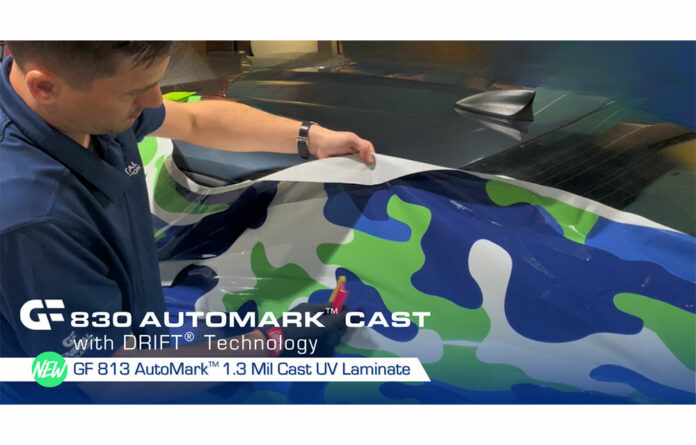 General Formulations, a leading manufacturer of pressure-sensitive films, is pleased to announce the launch of two new AutoMark™ Cast Laminates: GF 813 AutoMark™ Cast 1.3 Mil Gloss Clear and GF 844 AutoMark™ Cast 2.0 Mil Ulti-Matte Clear.
GF 813 AutoMark Cast is a high gloss and highly conformable laminate with maximized flexibility.
GF 844 AutoMark Cast is a conformable laminate with a pure matte finish.
GF Cast Laminate and Film solutions are specially engineered for full vehicle wraps, partial wraps, and fleet graphics, as well as long-term applications where a high-quality cast laminate is required.
GF AutoMark Cast Laminates provide graphic protection from UV exposure, moisture, and abrasion.
GF AutoMark Cast Films are highly conformable with maximized flexibility, enhanced slidability, and superior repositionability.
The company proudly manufactures its full line of cast products in the U.S.A. at its facility headquarters in Sparta, Michigan.
The new GF AutoMark Cast products will be on display at Booth C2567 at Printing United Expo in Atlanta, Georgia, October 18-20.
"We are extremely excited to announce the release of these new laminates to our expanding AutoMark Cast line of products," says Michelle LaPreze, director of marketing communications at General Formulations. "We can now offer multiple AutoMark laminate products to fit all our customers' vehicle wrap needs."
—Press Release