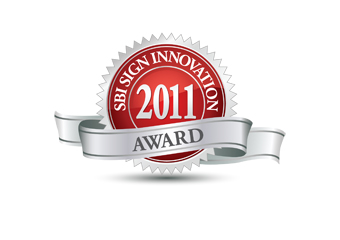 The SBI Sign Making Innovation Award contest is open to any sign-making professional or sign shop employee that has:
* Designed and/or built highly creative signs;
* Implemented environmentally friendly initiatives into the production process or workplace;
* Incorporated a number of varied sign processes in one project;
* Improved their business and/or profit model;
* Found a new market in which to sell their signs/graphics; or
* Worked in any capacity on a sign project that can be considered innovative.
If you believe you fit any one (or more) of this criteria, this is the contest for you!
Check back on June 10 for complete details and to fill out an entry form!