When it came to time to put our annual Yearbook recap together, it was obvious that COVID-19 pandemic was going to be the storyline of the year (and probably the twenty-first century so far). The pandemic changed the way sign shops, graphics providers, manufacturers, suppliers, and trade associations operated and communicated. Suddenly "essential business," "social distancing signage," and "new normal" became a part of everyone's lexicon.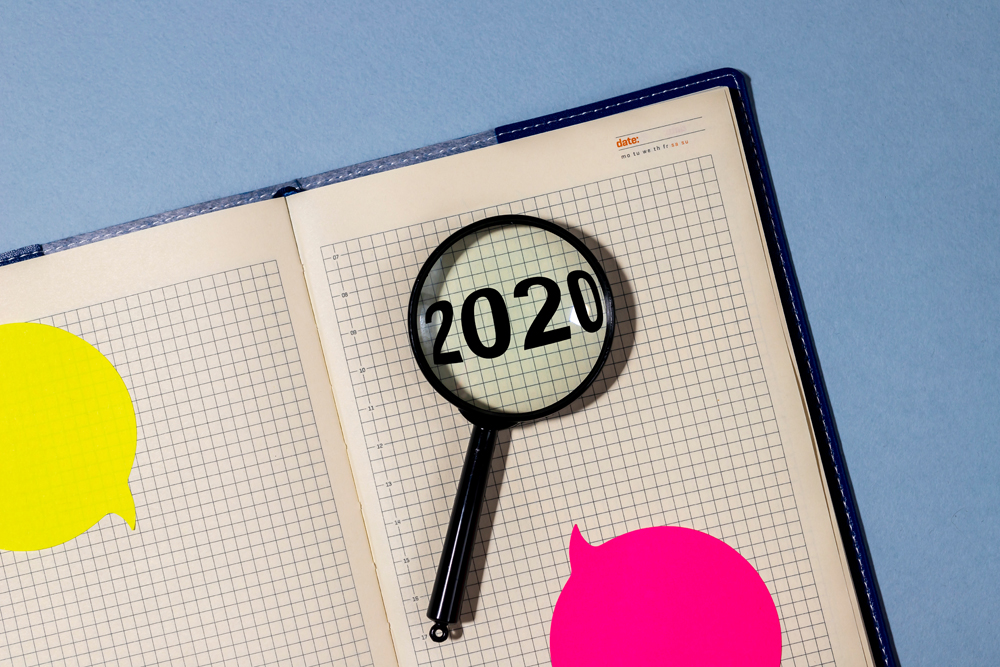 So for this year's edition, we are eschewing our main look at the memorable projects of the past year (although we do have some of these notables included within) and are instead focusing on the news and trends related to COVID-19 that the sign industry encountered and how these solutions could play pivotal roles over the coming months and years.
We've grouped these news briefs into distinct categories to help you differentiate between them.
At the end of each item, you'll find a citation directing you to further information either in a certain issue or on our Web site.
Here's to hoping that next year's Yearbook installment will allow us to be able to focus exclusively on exciting projects and notable sign industry trends once again.
The COVID-19 pandemic has wreaked havoc along the entire economic landscape. Small businesses in the United States, such as sign shops, felt the brunt of this slowdown through temporary closures of their own businesses or those of their clients.
At first, only the state of Maryland deemed sign shops as "essential." However the International Sign Association worked diligently to get many sign, graphics, and visual communication companies deemed essential and designated as "critical infrasctructure." (https://bit.ly/3pBfkUW)
The Families First Coronavirus Response Act (FFCRA) took effect on April 1, requiring certain employers to provide their employees with paid sick leave or expanded family and medical leave for specified reasons related to COVID-19 (effective through December 31, 2020). (bit.ly/39vvYMr)
Congress passed the CARES Act, which included the Paycheck Protection Program (PPP). This program allocated $669 billion to help small businesses keep workers employed amid the pandemic and economic downturn. The initial rollout was plagued with changes and hiccups, so a new Paycheck Protection Program Flexibility Act was signed into law to give small business owners more flexibility in how they could use PPP funds, more time to spend the funds, and an easier process for qualifying for forgiveness. (bit.ly/2K1oA4m)
Speaking at an SGIA "Ask the Experts" Webinar in May, Andrew Paparozzi, chief economist of SGIA, predicted the best-case scenario is that economic recovery for print shops should strengthen sometime in 2021, suggesting in the meantime that print providers needed to turn their attention to the industries that have grown through the crisis—pharmaceuticals, health care, home entertainment, home fitness, etc. "Follow progress [that] medical and pharmaceutical researchers are making in developing vaccines and effective treatments," he said. "When we have that, the whole game changes." (May 2020)
2. Sign Shops Get Essential
Eric Lazar, co-owner of SpeedPro Loop Chicago, had the foresight to start offering preventative signs and posters related to COVID-19 for retailers, offices, and other venues and public spaces (such as homeless shelters). They put their design skills to good use, developing custom posters based off of CDC guidelines gleamed from that organization's Web site. He eventually turned his attention solely toward producing signage support for recognized essential businesses—floor markers and guides, warning signs, car window decals promoting social distancing, etc. (May 2020)
Several employees at Persona Signs in Watertown, South Dakota used their downtime to make facemasks for local healthcare facilities, while Persona itself allocated a large portion of its manufacturing capacity to developing hygiene shields. (June/July 2020)
Phillips Signs of Seaford, Delaware installed a custom-designed Watchfire Signs LED display for the iconic, ninety-year-old Fisherman's Inn restaurant in Grasonville, Maryland. The sign played a large role in the restaurant's successful reopening following the state's mandatory COVID-19 shutdown, allowing them to change messages directed to patrons regarding curbside pick-up, outdoor dining, and finally indoor dining when it became available. (November 2020)
Ricoh USA, Inc., teamed up with the University of Texas Athletics to produce individualized fan cutouts to help fill the stands at Darrell K Royal-Texas Memorial Stadium, home of the Texas Longhorns football team, during game days. These cutouts, produced in conjunction with local Ricoh partner UT Print San Antonio, allowed fans to show their school spirit while respecting social distancing guidelines. A portion of the proceeds contributed to the health and safety resources for more than 500 Longhorn student-athletes, including weekly COVID-19 testing, special health monitoring, clean masks, face shields, and more. (November 2020)
3. Tradeshow Events
Many large-scale tradeshow events, such as the ISA International Sign Expo, LightFair, USSCF Sign Exchange, and PRINTING United, postponed their in-person events until next year. Digital Signage Expo called it quits for good after its event management company Exponation, LLC folded after experiencing numerous delays for tradeshows across all industries. (bit.ly/35pAmxz)
The PRINTING United Digital Experience took place October 26-November 12. The free, multi-faceted online experience spanned fourteen action-packed days of segment-based content sessions that focused on apparel, digital textile, industrial, graphics/wide format, commercial, packaging, and mailing and fulfillment. (bit.ly/2Tj9Kr8)
LightFair has announced new safety protocols as well as specific mitigation measures (including wider aisles, one-way traffic, open-style booth designs, etc.) for its 2021 staging, set for October 25-29, 2021 at the newly renovated Jacob K. Javits Center in New York City. (bit.ly/38Spdrt)
The Society for Experiential Graphic Design (SEGD) hosted "Present Yourself," a weekly meeting via Zoom where graduating design students met SEGD professionals for candid portfolio reviews and helpful career advice. (bit.ly/3eVyEHr)
4. Social Distancing Signage
The biggest sign trend of the year might have been the increasing need for social distancing signage used to promote safety.
When selling social distancing signage or graphics to retail customers, Brian Meshkati, vice president of Marketing for SinaLite, said sign shops should recommend applying decals and floor graphics at important checkpoints during a customer's journey through the store, such as the entrance, exit, cash register, or any place with high traffic. "Apply decals at eye level to ensure they are visible to customers," he suggested, "and where they will not blend into the background." (June/July 2020)
Indiewalls of New York City launched Indiesigns, an initiative to employ independent artists who suffered a loss of work as a result of COVID-19. These artists designed pandemic-related wall, floor, and window signage with a positive and design-forward aesthetic aimed at helping businesses reopen safely without compromising on design. (September 2020)
5. Safety
At an ISA COVID-19 Update Webinar in May, J. David Krause, PhD, MSPH CIH, spoke about ways to reduce the risk of infection when sending your sign shop staff out into the field: Minimizing the number of employees riding in the same vehicle, wiping down high-touch surfaces on the job site with disinfectant before and after each use, and wearing nitrile gloves (instead of latex) and face coverings (an N95 respirator mask or higher). (bit.ly/32H7Wxm)
Suzanne Rappoccio, vice president of Administration at Sign Pro, Inc., in Plantsville, Connecticut, successfully established a business continuity plan during the COVID-19 pandemic, kept employees and customers informed about their work schedules, created VPN access for critical employees, and maintained customer delivery schedules. (May 2020)
Throughout the year, OSHA released tips to reduce the risk of COVID-19 exposure including encouraging workers to stay home if they are sick; establishing flexible work hours (if feasible); practicing sensible social distancing; and training workers on how to properly put on, use/wear, and maintain protective clothing and equipment. (bit.ly/3brbRja)
6. Educational Resources
Sign Builder Illustrated set up a COVID-19 channel on our Web site, where we posted business- and safety-related articles and information to help guide shops through the pandemic. We also created "Standing Strong With Our Sign Shops," branding designed to show that everyone in the sign industry stands together with sign shops during this current crisis and that everyone will end up being even stronger than before on the other side of it. (bit.ly/2WY6sMZ)
We also launched our Shop Talk podcast this year talking with a variety of sign shops and industry insiders. In Episode 6, we spoke with Gerri Detweiler, education director for business lender Nav, about how the world of financing has changed dramatically over the last few months thanks to COVID-19. Detweiler also provided a few simple tips to help business owners best position themselves for financing in this changed environment. (bit.ly/3kklnt2)