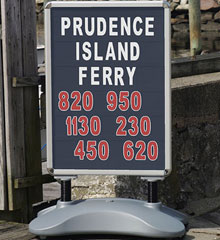 SidewalkSigns2Go
, a DisplayShops specialty Web site specializing in stock sidewalk and a-frame signs, announces the launch of its new line of exterior signs with black letter boards for outdoor advertising. The sidewalk signs are designed to encase the letter boards inside their aluminum frames, which protects the letter boards from dirt and tampering.
"This new product line came into being following our observations on letter boards out in the field," says Sandra Reno, spokesperson for SidewalkSigns2Go. "Left unprotected, changeable letter boards are havens for dirt and grime, not to mention they are also difficult to clean. Letter boards are manufactured with channels for inserting the flat letters and it's these channels that are always exposed to the elements. This product line addresses these concerns with a new letter board designed to be thin enough for insertion into a poster snap frame."
The letter boards are fabricated from .030" black styrene and actual thickness at its thickest part is 1/8". The letter board is available with a number of sidewalk sign models, all of which are double-sided. The boards are set inside the snap frames and a clear non-glare lens is placed on top. Once the snap frames are closed, the letter boards are protected from the elements and prevent tampering. In this manner the letter boards stay cleaner longer, therefore extending the life of the sign.
"The sidewalk signs come with (390) letters, numbers, and symbols, plenty of characters for displaying on both sides of the letter boards," adds Reno. "These come as printed sheets with score lines between each character. The end user simply breaks apart the letters to start generating their custom messages. Also included are (2) printed headers, each saying "SALE" and "SPECIAL" for calling attention to promotions for the retail sectors."