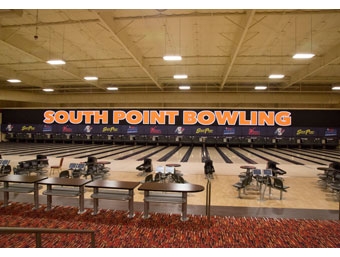 Opening ahead of schedule, South Point Hotel, Casino & Spa recently revealed their new $35 million bowling tournament center. The 90,000-square-foot South Point Bowling Plaza features 60 lanes, a 360-seat viewing area and two Daktronics Inc. manufactured LED video displays located at two ends of the bowling alley.
The two, 10 millimeter LED video displays, measuring approximately 8 feet high-by-170 feet wide each, act as official score keepers for bowlers and showcase a variety of high-definition LED video advertising.
While other bowling entertainment facilities are usually open to the general public, including the South Point's original bowling area, the South Point Bowling Plaza is only for professional tournaments. Per a long-term deal with the United States Bowling Congress, Las Vegas Events and the Las Vegas Convention and Visitors Authority, the facility will regularly host major bowling championships.
"With the installation of our new Daktronics boards, in conjunction with our Brunswick scoring system, we have a display that is unparallel in the bowling industry," said Mike Monyak, director of bowling operations at South Point. "Add in the benefit of being able to use virtually any kind of media for displays, advertising or any other kind of output, and the system cannot be beat."
Daktronics and South Point's relationship began prior to their grand opening in December of 2005. Interested in installing LED displays both inside and outside their facility at the time, South Point chose Daktronics because they needed a company they could trust and one that would provide them with a remarkable product and timely service.
South Point Hotel, Casino & Spa rests on 60 acres of land at the southern tip of the Las Vegas Strip. The popular mega resort offers patrons a wide variety of gaming and entertainment amenities that include a movie complex, race and sports book, bowling centers, equestrian center, a Showroom featuring dancing, comedy and live bands, and a handful of restaurants that cater to all appetites and tastes.
In total, more than 20 Daktronics-manufactured LED video displays are located throughout the South Point property. Watch South Point's LED video displays in action.
Built for high performance in outdoor and indoor environments, Daktronics LED video technology offers a long lifetime with minimal maintenance, low power consumption, and will provide South Point Hotel, Casino & Spa great marketing value and entertainment for years to come.
Daktronics video technology helps enhance gaming facilities' themes and provides incredible ambiance that keeps guests returning. Discover more information about Daktronics video solutions for hotel and gaming facilities at: www.daktronics.com/gaming.