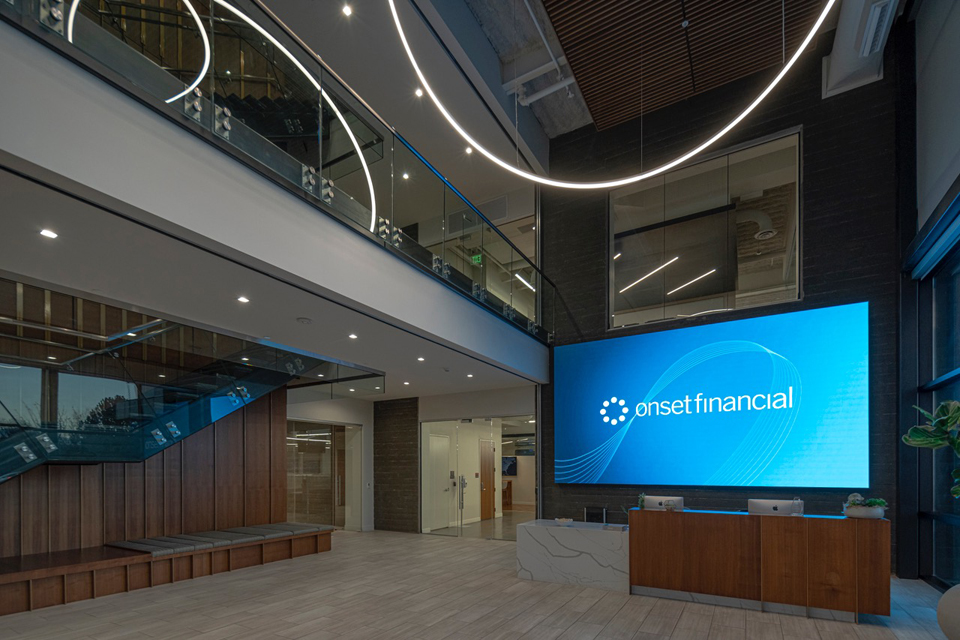 Onset Financial is one of the leading equipment lease and finance industry firms in the country, so when the company made the decision to move their headquarters to a new, built-from-scratch facility in Draper, Utah, they knew that they needed exterior signage for it.
Real estate developer Gardner Batt had been working with Onset Financial on this new construction, and they reached out to Joel Warden, branch manager at fourth-generation, family-owned YESCO in Salt Lake City, Utah. (Note: This renowned company is known for creating, repairing, and maintaining internationally recognizable signs and is currently celebrating 102 years of operation.)
Warden met with Onset Financial CEO Justin Nielsen to discuss signage for the building. This conversation proved fruitful, as YESCO ended up being selected to provide all of the exterior signage, letters, and logos for all four sides of the new building.
However the quality of their exterior work also provided them with an opportunity to move indoors for an additional project as well.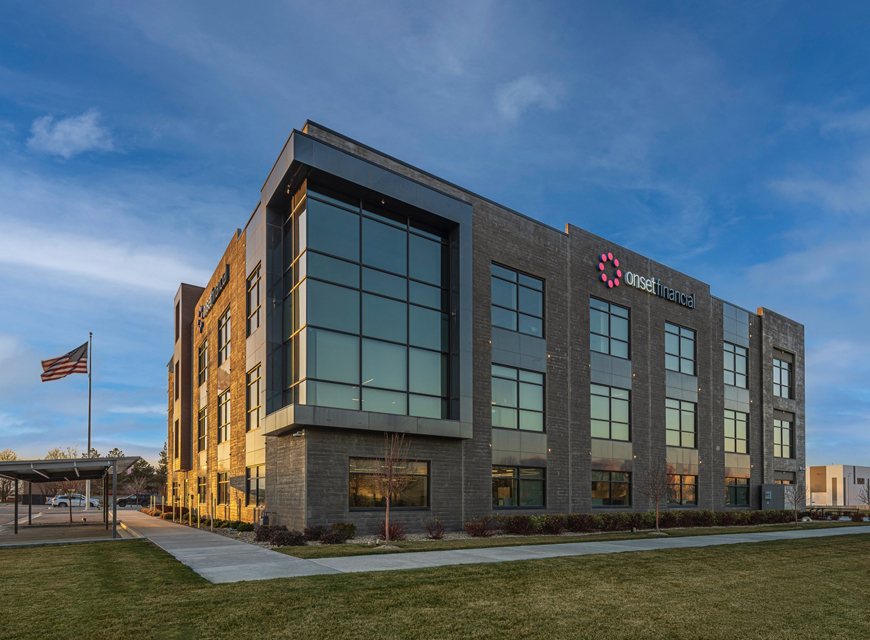 YESCO found themselves talking further with Onset Financial about making a dramatic statement of some type within their interior entryway. At this time, Warden suggested the installation of a large interior electronic message center here.
After two years of consideration (and several other YESCO build-and-installs for them such as post-and-panel signs and vinyl graphics), Onset Financial President Melinda Haynes revisited Warden's recommendation and spearheaded hiring the sign company to install a 16-feet-wide-by-9-feet-tall Watchfire digital display hung on the wall behind the reception desk one encounters as soon as they walk through the front doors. (Note: YESCO has worked successfully as a Watchfire Signs dealer for years.)
YESCO brought display samples of several different pixel pitches to plug in and show Haynes. Because of the install location's proximity to customers, she opted for a 1440×2550 matrix 1.9mm display.
"The display is mounted only six feet away from where [a person] would be standing in front of the reception desk. When someone is that close to the screen, you're going to need a high resolution and a tight pixel-pitch display so that the human eye will stop recognizing the pixels and instead blend them together so they're not noticed," explains Warden.
The new digital display was shipped in multiple crates from the Watchfire facility in Danville, Illinois, straight to the Onset Financial headquarters site.
The installation took place during open hours at the front entrance over a five-day period last September and took an estimated 250 man-hours to perform. A dedicated Watchfire tech even showed up onsite to work as the lead for the YESCO installers.
"The crates were well placed in a way that it didn't disrupt the flow of everyone going into the building," says Warden, noting that pedestrian safety and client convenience is always a consideration when planning installs. "We made an effort to not clutter up the lobby as much as possible. We set up lanes for people to pass by the installation team as they were working."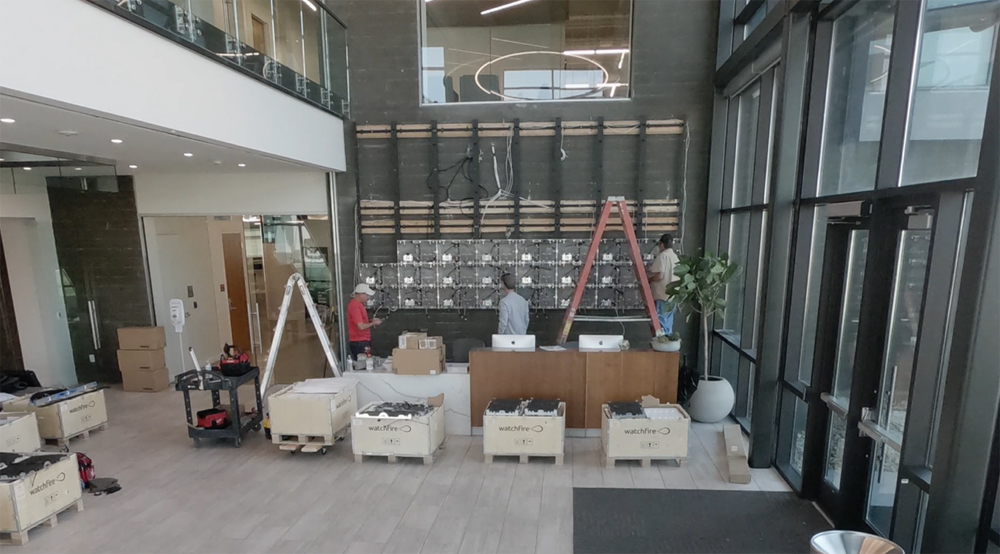 A big challenge for this installation is that the wall was made of formed concrete, which meant that it was not perfectly flat. One important rule in the install of digital displays is that the mounting surface needs to be flat, so that the digital display will be 100 percent plumb and true to it. Any disruptions can cause the look of the screen to be affected.
"When the wall was poured two years ago, the construction crew left the indentation of the boards in it. So in between each board, there was kind of a jutting-out grout line of concrete," says Warden.
YESCO's solution was to install vertical stringers and then mount the display units to the frame, which was attached to the stringers. The company used a combination of four horizontal stringers and nine vertical stringers, which ironed out this uneven problem.
"It took some craftsmanship, but our installers added the multiple vertical stringers and then used levels to make sure that everything was plumb and true," says Warden. "Once that happened, we were able to begin installing the horizontal stringers that were the framework of the display itself."
Even though Onset Financial had pre-planned for the digital display and had power run to the location during the initial construction phase using a 120-volt outlet, they were actually unfamiliar with how much power a display this size would need and ended up with an insufficient amount. "They had also brought in one or two CAT 5 data lines, but we needed more than that," says Warden.
YESCO electricians ended up fishing the new data lines and electrical wires through the walls to the backside of the wall where the display was going to be mounted, which fortunately solved this problem.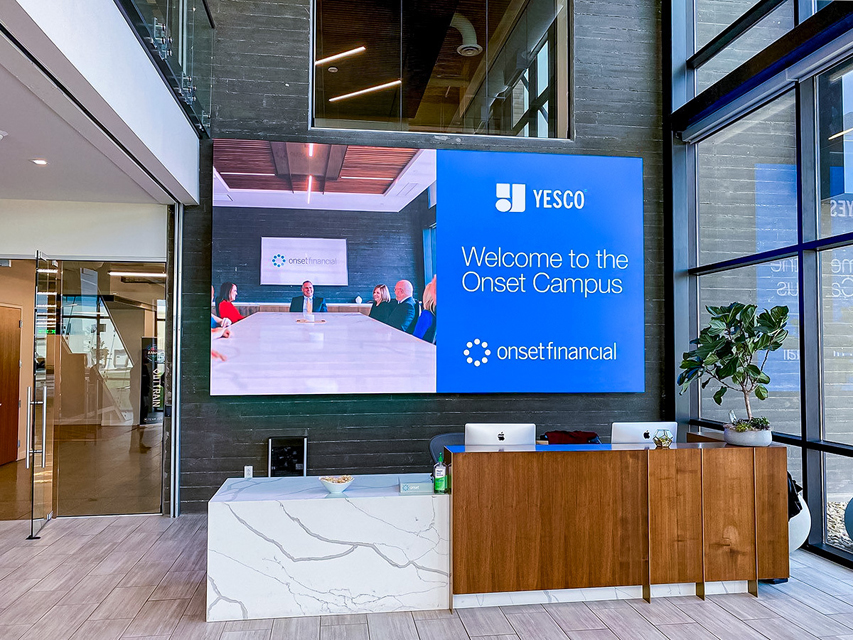 The gigantic Watchfire display is in constant use 24/7, never being turned off. And while the display is located near a big bank of windows surrounding the lobby, brightness can be easily adjusted on it, if needed. (Note: This actually turned out not to be a problem at all, since the manufacturer specs provided ensured the display was not affected by any of the sunlight coming into the building.)
Onset Financial has a team of talented in-house graphic designers developing content for the digital display using Watchfire OPx software. "You really have to stand in the lobby to realize and recognize the value of this display," says Jeff Young, executive vice president of YESCO. "They're an equipment leasing company, so when they have key customers come in, they can put customized welcome messages on it. It really does change the atmosphere for a visiting customer."
In addition to these custom messages, Young says that Onset Financial's graphic designers are doing a great job generating content on it like dazzling landscape panoramas and updated standings for their creative employee contests that help motivate and congratulate and recognize the good work being done by their internal employees (such as one contest themed after the TV series Survivor).
As most sign companies spend a lot of time working on outdoor signs, it's important they realize there is a difference when it comes to generating content and exposure for an exterior display versus an interior one. "With exterior, you're typically reaching out to passers-by outside," says Young. "With an interior display, one has this additional value of creating an ambience in the room or lobby."
Young says these applications are a great avenue for sign shops to pursue, as they are popping up more often. "This was a really fun project for us," he says.
However these types of installations can be expensive, so Young stresses the importance of not taking a project like this lightly before making sure you have all the expertise to make it happen.
"There's a lot of discipline that comes to bear, even though it looks pretty easy because everyone is used to TVs on a wall. But this isn't a TV. It's a much larger display," he says. "You have a beautiful new building here with high expectations from a client, so everything has to come together perfectly. There are literally hundreds of people standing behind [Warden] to help him as our ambassador when it comes to the customer."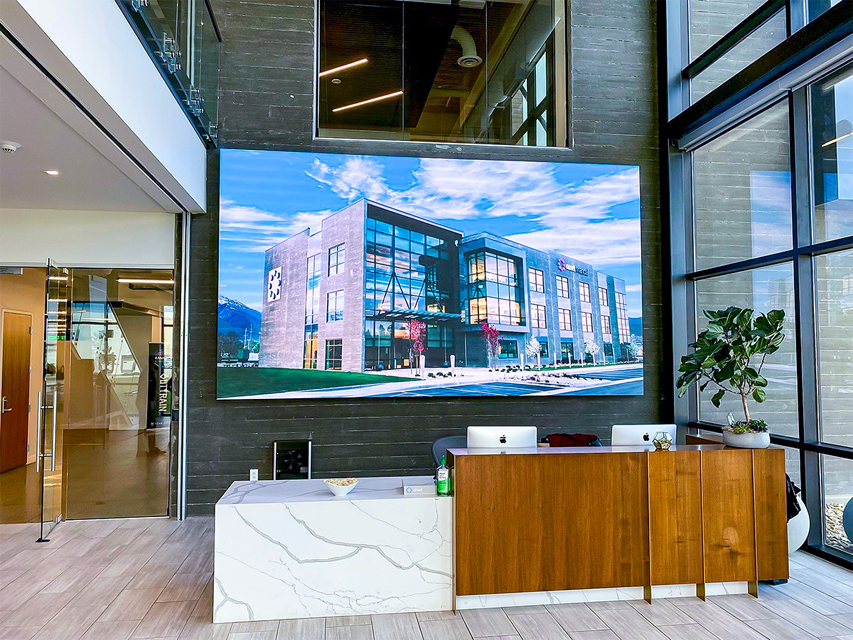 Warden believes that this project might be the finest pitch interior display that's ever been installed in Utah. "To our knowledge, we haven't seen anything of this display pitch in the community at all," he says.
"We hope this is the first of many, because once everyone becomes aware of this one, they're going to say, 'I want some of that!'" adds Young.