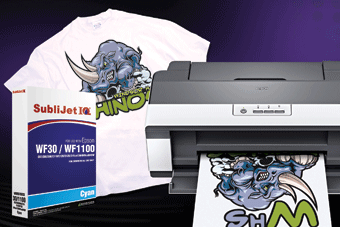 Sawgrass Technologies Consumer Division, a world leader in the development of profitable solutions for digitally printing consumer products, offers the SubliJet IQ sublimation ink system for the Epson WorkForce 1100 printer. The advanced four-color printing system features SubliJet IQ sublimation ink and allows any business to expand their business offerings and make more money with sublimation printing!
The Epson WorkForce 1100 for SubliJet IQ is the industry's first entry-level wide format sublimation printing solution that makes it easy to produce a wide variety of high margin items including: plaques, awards, photo-gifts, promotional products, poly-performance apparel, signs, and more.
This business-class, desktop printer has a 13-by-19-inch printing field and can deliver up to 27 high-quality, photo-realistic images per hour.
In addition, it's backed-up by Sawgrass's comprehensive PartnersPlus support program that includes online product support, full product warranty and technical phone support.
"With its low-cost CMYK configuration, bulk ink system, and media handling up to 13-by-19 inches, the WorkForce 1100 SubliJet IQ provides customers with a very affordable wide-format desktop solution," said Mike McEvoy, director of Marketing Communications for Sawgrass Technologies.
To learn more, visit www.sawgrassink.com.